Who is in the Lies of P cast? The cast list for this robot reimagining of Pinocchio is a veritable embarrassment of riches. There's a lot of voice talent to discover here, and you're all but guaranteed to hear a familiar voice from television, films, and videogames as you become acquainted with the citizens of Krat.
Several Lies of P voice actors have already lent their voices to staple soulslike games, while others have appeared in beloved TV franchises. Thankfully, you don't have to wait for the credits to roll to put a voice to a name – we've got the full Lies of P cast list right here. Of course, we've also got details on Lies of P's length if you're wondering how long it'll take you to view the credits for yourself.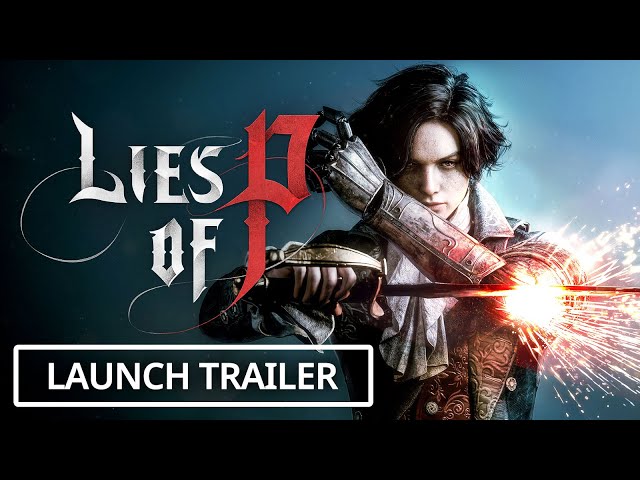 Who are the Lies of P voice actors?
Here are the Lies of P voice actors:
Alidoro – Henry Lloyd-Hughes
Antonia – Annette Badland
Arlecchino – Joseph Balderrama
Black Rabbit Brotherhood Battle Maniac – Gregg Lowe
Black Rabbit Brotherhood Eccentric – Connor Finch
Black Rabbit Brotherhood Youngest – Charlie Cameron
Cecile – Charlie Cameron
Claudia the Fox – Chloe Claudel
Eugénie – Sofia Jin
Gemini – Rasmus Hardiker
Giangio – Joe Pitts
Guiseppe Geppetto – Anthony Howell
Lorenzini Venigni – Shai Matheson
Lucio the Cat – Islam Bouakkaz
Polendia – Alex Waldmann
Pulcinella – Peter Davison
Rasmus Hardiker – Matt Rippy
Robbie Weasel – Charlie Cameron
Romeo – Chase Brown
Sophia Monad – Allegra Marland
Test Subject 826 – Connor Finch
Allegra Marland
Allegra Marland is Lies of P's equivalent of the Blue Fairy, and can help Pinocchio grow in strength – so suffice it to say, you'll be hearing her voice a lot. Marland is most known for her performance as Carolyn Pride in The Crown, though she's also appeared in Goodbye Christopher Robin and Father Brown. Marland is also no stranger to soulslikes, having previously lent her voice to Millicent in Elden Ring, the NPC suffering with Scarlet Rot in Caelid.
Anthony Howell
Anthony Howell is a prolific videogame voice actor, with roles in Final Fantasy XVI, Diablo 4, World of Warcraft, Alien Isolation, and more. He also joins Allegra Marland as a FromSoftware alumni, having voiced Margit and Morgott in Elden Ring. Setting aside his extensive work in videogames, he's also appeared in TV shows like Foyle's War and Luther, and has taken to the stage for a National Theatre production of King Lear. All in all, we'd say he's more than qualified to assume the role of Geppetto in Lies of P.
Rasmus Hardiker
Pinocchio wouldn't be Pinocchio without a trusty cricket to guide the way, and Hardiker assumes the role of Lies of P's robot equivalent. It's a dramatic shift from his recent stint as a voice actor for a range of children's shows, though he's also displayed his range in a number of TV shows and films, including Starter for Ten and Cockneys vs Zombies.
Annette Badland
Annette Badland has a prolific career in film and television, including Bergerac, Midsomer Murders, and EastEnders. Doctor Who fans might also recognize her as Blon Fel-Fotch Passameer-Day Slitheen during Christopher Eccleston's run. However, her stint as Hotel Krat's enigmatic owner isn't her first foray into the world of videogame voice acting; she also lent her voice to various NPCs in Diablo 4 earlier this year.
Sofia Jin
Sofia Jin lends her voice to Eugénie, Hotel Krat's enterprising craftswoman – and your first port of call if you're looking to switch out Lies of P legion arms. This may be Jin's first voice acting role in games, but she has a seasoned background as a presenter and documentarian.
Peter Davison
Peter Davison doesn't have a major role in Lies of P, but his involvement in the action-adventure game will be a welcome surprise to any Doctor Who fans out there. He's most known for his performance as the sprightly Fifth Doctor – though we can't forget his turn as Yorkshire vet Tristan Farnon in All Creatures Great and Small back in the day.
Now that you're all caught up on the Lies of P voice actors, be sure to keep this cast list to hand while you explore the city of Krat. Our Lies of P bosses guide is also indispensable for reaching the end credits in one piece, as are the best Lies of P amulets. If you're struggling to overcome a mechanical menace, then farming Lies of P Star Fragments or Lies of P Quartz is your best bet.