So you want to know about the Minecraft 1.19 release date? First announced in October 2021, this is also known as 'The Wild' update and will be a major addition to the Java edition of the beloved sandbox game. It's currently scheduled to release later this year, and is even available to play right now via Minecraft snapshots.
Details released so far on the Minecraft 1.19 update include a bunch of new features, from new biomes such as the Deep Dark and Mangrove swamp, new mobs like The Warden, to new world generation features. Ancient cities will spawn in the Deep Dark, which is an area that only spawns underground. You can make clay or mud brinks thanks to the new Mud block, which you craft by mixing soil with water. There will also be a new enchantment, and Frogs and Fireflies will debut during this update as well.
Here's everything we know about the Minecraft 1.19 release date, as well as a summary of the key features.
Minecraft 1.19 'The Wild' Release Date speculation
The Minecraft 1.19 'The Wild' release date is currently set for 2022. Like many games released over the past few years, a vague release date like 2022 can easily be pushed into 2023.
Fear not, however, as you can go to the official Minecraft website for instructions on how to download the current snapshot beta, if you want to try it out early.
MINECRAFT 1.19 'THE WILD' TRAILER
Here's the Minecraft Wild update trailer, as show at Minecraft live 2021: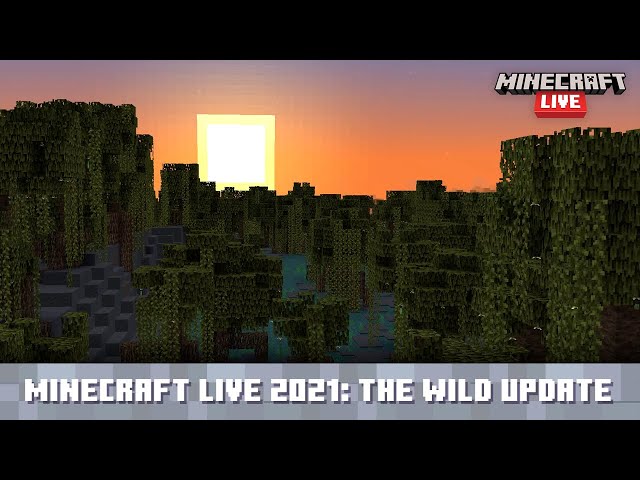 Minecraft 1.19 features
You can get a more detailed breakdown of confirmed and planned 1.19 feature set on the Minecraft wiki, but here is a summary:
Deep dark biome
The new Deep Dark biome spawns underground within the Deepslate layer, and will come with new blocks, and can spawn things like Ancient cities. The Warden spawns in this biome.
Mud
You can get mud by pouring water on dirt – true both in real life, and when it comes to the new mud block. You can place a mud block on top of dripstone to drain the moisture out and turn it to clay, or you can turn it into mud bricks for a new building material.
Mangrove trees and mangrove swamp biome
The Wild will feature a major swamp update including mangrove trees. Mangrove trees will grow from propagules which can be planted underwater or on land, and they'll grow up into big masses of root blocks with vines hanging down around them. You can harvest them for a new wood type. You'll also find full-on mangrove swamp biomes.
Boats with chests
Perhaps most importantly, we're also getting boats with chests in them – pretty self-explanatory. The devs suggest the wider rivers introduced with the new world generation features will be a perfect excuse to take your storage-enhanced boats out for a spin.
Allay mob
The allay mob, which won the vote this year, will be part of 1.19 too. It's a small blue fairy-like creature that collects items for you and loves to dance.
Frogs and Fireflies
Frogs will also debut here, complete with animated croaks. They'll start as tadpoles (which you can put into a bucket), and grow into one of three variant frogs – snowy, swamp, or tropical – based on the temperature of the biome they mature in. Frogs will eat fireflies, which are also getting added in The Wild, and will hop toward lily pads when they can – they might also be tempted into a fall by dripleaves.
Game Pass for PC Game Pass for PC Microsoft $9.99 $1 (first month) Subscribe Network N earns commission from qualifying purchases via Microsoft and other programs.