When is Sayu's banner release date in Genshin Impact? Mihoyo recently surprised us by announcing a whole host of new Genshin Impact characters. Kazuha arrives at some point in the 1.6 update, and details of Yoimiya have surfaced in datamines – there's even more information out there on Ayaka. While we only got a few background details on Sayu from Mihoyo's announcement, dataminers have dug up some more information on her playstyle and abilities.
Sayu is a four-star character who wields a Claymore and scales on attack and elemental mastery. According to Honey Hunter, one of her big moves involves her rolling into a wind wheel and dealing damage to anyone who comes across her path. While she's rolling around, she can absorb elemental damage and fling it back at enemies. Once she's done, she releases a big kick to finish off the move. You can wait for the action to end before you deliver the blow, or you can choose to jump out early if it suits the situation more. Sayu can also summon help that damages foes with anemo damage while healing her allies, so she can quickly fill the role of damage or healer on your squad.
Sayu also comes with a passive that allows your party to sneak up on Crystal Flies and other animals without startling them. In addition, if Sayu triggers the swirl reaction, she will heal everyone in your party for 300 hit points, which is nifty. It's worth mentioning, though, that it's still early days for the character, so things could change between now and when she eventually releases.
Genshin Impact Sayu banner release date
The Sayu banner release date is August 10, 2021. Sayu is a four-star that will be featured in the Tapestry of Golden Flames banner, which is the second of the two Genshin Impact 2.0 update banners, and she'll be joined by Yoimiya. The first banner, called The Heron's Court, will feature Ayaka. This update also includes the new Inazuma region in Genshin Impact.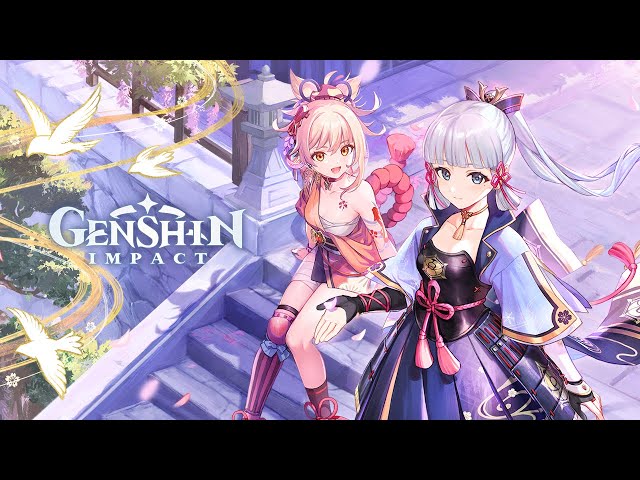 Genshin Impact Sayu abilities
Normal Attack: Shiyuumatsu-Ban Ninja Blade
Normal attack: Perform up to four consecutive strikes.
Charged attack: Drains stamina over time to perform continuous spinning attacks against all nearby opponents. At the end of the sequence, perform a more powerful slash.
Plunging attack: Plunges from mid-air to strike the ground below, damaging opponents along the path and dealing AoE damage upon impact.
Elemental skill: Yoohoo Art – Fuuin Dash
Curl up into a rolling Fufu Windwheel and smash into opponents at high speed, dealing Anemo damage. When the duration ends, unleashes a Fufu Whirlwind Kick, dealing AoE Anemo damage.
Press: Enter the Fufu Windwheel state, roll forward a short distance before using the Fufu Whirlwind Kick
Hold: Roll continuously in the Fufu Windwheel state, increasing resistance to interruption. Can trigger elemental absorption. Has a maximum duration of 10s.
Elemental absorption: Occurs once per use – if Sayu comes into contact with Hydro, Pyro, Cryo, or Electro while in the Windwheel, she deals additional elemental damage of that type.
Elemental burst: Yoohoo Art – Mujina Madness
Summons a pair of helping hands, dealing Anemo damage to nearby enemies and healing nearby party members. The amount of HP restored is based on Sayu's attack and summon a Muji-Muji Daruma.
Muji-Muji Daruma: Either attacking nearby enemies dealing Anemo damage if nearby characters HP is above 70%. If HP is, however, below 70%, it will heal the character with the lowest percentage HP, or heal all characters above 70% HP if no enemies are nearby.
Sayu passive talents
Yoohoo Art – Silencer's Secret: When Sayu is in the party, your characters will not startle Crystal Flies and other certain animals when getting near them.
Go Find Someone Else: When Sayu triggers a Swirl reaction, she heals all characters and nearby allies for 300 HP, and an additional 1.2 HP for every point of elemental mastery she has. This can be triggered every 2s.
I Don't Wanna Work: The Muji-Muji Daruma gains: when healing a character, also heals nearby characters for 20% the amount of HP and increases the AoE of its attack against enemies.
Sayu Constellations
Multi-Task no Jutsu: The Muji-Muji Daruma ignores HP limits and can simultaneously .
Egress Prep: Yoohoo Art – Fuuin Dash gains: damage of Fufu Whirlwind Kick increased by 3.3%.
Eh, the Bunshin Can Handle It: Increases the level of Yoohoo Art – Mujina Madness by 3, maximum 15.
Skiving – New and Improved: Sayu recovers 1.2 energy when she triggers a Swirl reaction, effect occurs once every 2s.
Speed Comes First: Increases the level of Yoohoo Art: Fuuin Dash by 3, maximum 15.
Sleep O'Clock: The Muji-muji Daruma benefits from elemental mastery: increases the damage dealt by 0.2% attack, maximum 400% and increases the amount of HP restored by 3, maximum 6000 HP.
Aside from that, we don't know much about Sayu. Mihoyo says she's Shiyuumatsu-Ban's resident ninja and can usually be found hiding in trees in the afternoons, and apparently she often looks sleep deprived.
While you're waiting for the Sayu banner, check out the current and next Genshin Impact banner. If it's Genshin Impact codes you're looking for, we've got them rounded up, too.