There's no denying AMD has had a stellar year in 2018. Sure, the stock market can be a little fickle, and GPU development still hasn't quite caught up with the competition, but the red team has maintained positive momentum in CPUs, made smart choices for Radeon, and, for the first time in a decade, may even have Intel rattled.
Thanks to its flexible manufacturing and its one scalable architecture to rule them all approach, AMD has been able to stay on the attack in 2018. While usually in catch-up mode trying to chase down Intel's dominance, for the first time in a long time, AMD looks to be pulling ahead of Chipzilla. But, as ever, AMD needs to stay on the offensive to really change the status quo for good.
From a half-step generation of CPUs, which reignited a long-stagnant pricing war, to server chips convincing enough to get giant clients to ditch Xeon for once, the red team has been busy in 2018. On the GPU side, maybe less so, but it almost side-stepped the collapse of the crypto-mining market, and still came out swinging with a new mainstream graphics card.
With all the techie goodness the red team has bestowed upon us in 2018, it's time to take stock of exactly what AMD has brought to the table during the previous twelve months.
AMD 2018 review: January – March
Ryzen Mobile was just about out the door in a select batch of 'vanguard' laptops when the year kicked off, technically offering our first glimpse of the second-gen Ryzen optimisations outside of the 12nm process update. But it wasn't long after, at its CES Tech Day, that AMD's CEO took to the stage to unveil the motherload of upcoming product.
First up was the Raven Ridge desktop APUs, the Ryzen 5 2400G and Ryzen 3 2200G. With both the best of Zen and Vega graphics, the more capable 2400G is one of the first APUs in a long while that delivers decent graphical chops and compute power on a single chip. And the 2200G is a surprisingly powerful budget APU that even knocks the budget first-gen Ryzen processors from 2017 in core-to-core combat.
Of course, it's hard to ignore the grand narrative of 2018's first few months. Cryptocurrency was riding high for the first few weeks of 2018. And AMD, seeing Radeon flying off the shelves faster than it could manufacture silicon, wanted a piece of the pie for its CPU business. How you ask? Well, just mine on the core-happy Threadripper HEDT CPUs.
"What we want to do for the end user is that they consider mining on the side." Damien Triolet, the latest AMD employee to jump ship to Intel, said back in January. "I mean not building a semi-professional mining rig but just building their usual high-end system with TR, one GPU, they can still make a nice profit on the side then, and almost pay for that platform over a year."
However, it wasn't to last, and Triolet's self-financing CPU wasn't to be. Crypto was out, swiftly falling from its great heights as the month continued. From highs of $16,666 in January, Bitcoin's value, and AMD's newfound revenue raiser, evaporated. Bitcoin is valued at just $3,364 in December. Spoiler alert: this will come back to bite AMD later in the year.
Also, let's not forget the big bug scare of 2018: Meltdown and Spectre. While AMD was significantly better off than Intel when it came to the security vulnerabilities, at least in public perception, AMD still had to eat crow and roll out some Spectre mitigations on its platform.
AMD 2018 review: April – June
For now, it's onwards and upwards for AMD. April brings with it the launch of the Ryzen 2000-series processors: to the ire of many colloquially known as 'Ryzen 2'. Sorry, everyone else did it and we crumble at social pressure. We're also on 20 fad diets and vaping to high heaven right now.
These chips are faster than their predecessors, better for gaming, and their launch pretty much went without hitch. AMD even slashed prices on comparative chips, and, most importantly, the value proposition fell decisively in AMD's favour over Intel's rival Coffee Lake processors – even if gaming performance was still not quite on par with Intel's finest.
Our personal favourite CPU, the Ryzen 5 2600, is able to offer serious multi-threaded performance, gaming guts, and a cooler all for a totally inoffensive price. That's probably why we lauded it enough for a 10/10 score. Nailed it.
And if eight-cores and 16-threads couldn't satiate you in April, as the summer heated up to unprecedented levels, so too did the high-end desktop market. AMD announced its 32-core Threadripper chip at Computex. Capable of operating comfortably on an air-cooler alone, AMD's success totally dwarfed Intel's 28-core, industrially-cooled server chip announced just a day before.
AMD 2018 review: July – September
When I say the stock market hasn't been all that bullish on AMD, there were a brief few months in 2018 when AMD's share value drastically increased. That's the tail-end of July, through August, and right up until the end of September.
Okay, comparatively to Nvidia's incredible gains throughout most of the year, AMD's rather moderate 116% share price gain from the start of July to the highs of mid-September looks paltry in comparison. But in AMD's books this marked a momentous occasion. In July AMD hit its highest net income in seven years. In August, its share price closed at its highest value in over a decade.
These three months also saw a huge shake-up to the semiconductor manufacturer landscape. GlobalFoundries and AMD used to be one in the same, and since parting ways in 2009, had been closely working with the red team to manufacture chips as a part of its often amended Wafer Supply Agreement. But in August 2018, GlobalFoundries dropped out of 7nm.
But that doesn't square up with AMD's product lineup moving rapidly towards the 7nm process. Luckily, AMD has friends in high places – and a ton of business to offer – and rustled up the gargantuan semiconductor fab TSMC for product going forward. Its architectural flexibility also opens the door to other foundries in the future if necessary. Did I hear someone say 'Samsung?'
At least with TSMC in the equation, AMD needn't worry about supply falling short of demand. TSMC isn't expecting to max out its 7nm process, with capacity going spare for the first half of 2019. That's a flexibility rivals Intel may not be able to afford, but things may be looking up for Chipzilla.
Let us not forget that these few months also saw AMD receive the accolade of "most stable drivers" in the industry. Okay, AMD may have commissioned the study themselves, but the red team's software devs finally had hard proof that its work was paying off where it counts, and helps combat anecdotal opinions online and Nvidia's efforts.
AMD 2018 review: October – December
And so we arrive into Christmas present. In the run up to the festive season, AMD launched two new graphics cards. One was just for the Chinese market, and not well received for superficial reasons. That's the RX 580 2048SP variant, a card that's an RX 570 with a different device ID.
The other was the RX 590, a graphics card that exists to kick Nvidia in the mid-range while it flounders with GTX 1060 stock. This late-game 12nm Polaris refresh is not much of an upgrade over the RX 580 in actual graphics grunt, but it does serve one important purpose: make Polaris look appealing for the mainstream market. And it just might work.
But Radeon isn't immune to the issues Nvidia is facing, and releasing a new mainstream card right now could backfire considering AMD, just like the green team, has a "depressed graphics channel". No, it's no cause for alarm, AMD just made a few (or quite a few) too many graphics cards back when crypto was still a thing, and, as promised, this came back to bite them in the butt later in the year.
In fact, AMD missed its revenue target by $50 million in Q3 because of "significantly lower GPU sales". Back when Nvidia CEO, Jen-Hsun Huang confirmed its own inventory build up, he claimed that this wasn't simply due to the green team's own stock.
"Because it's not just my inventory," Huang says. "It's AMD's inventory as well. I think the part that we didn't estimate was the amount of inventory that they put in the channel."
But while Nvidia is playing dumb, Lisa Su over at team red claimed the oversupply was "pretty much what we expected". So maybe AMD has a bit of a better grip on the situation that their rivals. Nevertheless, it still doesn't leave AMD in the best situation going into Q4 and beyond. On the plus side, Su also told attendees at the Credit Suisse conference that AMD will be competitive in the high-end, claiming new products that will be "right there in the mix."
And if that wasn't enough for the festive period, AMD also outlined the chiplet design for 7nm Zen 2, launched its Vega 7nm MI60 and MI50 GPUs, and trademarked the 'Vega II' logo… whatever that means.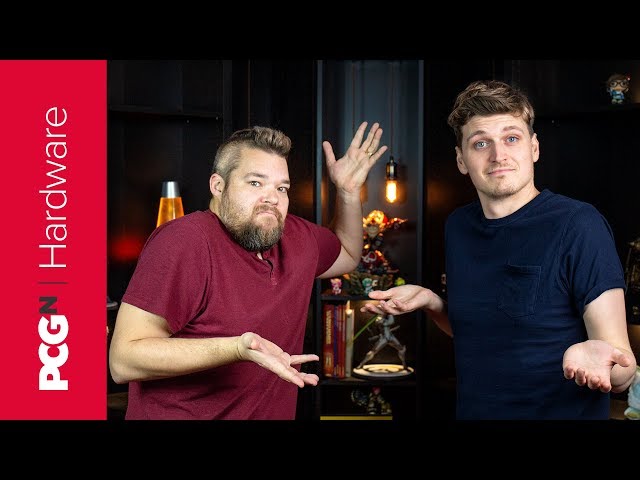 And that all brings us up into the new year. From what we know so far, AMD Zen 2 and AMD Navi will both be ready to hit the shelves sometime next year. Will Navi have what it takes to tear down the green team's high-end monopoly? Will 7nm Vega make it into gaming cards? Will Zen 2 continue the push back against Intel's x86 dominance?
Who can say – that's not how time works, silly. But if we can be sure of one thing after watching the red team these last 24 months: 2019 is going to be one hell of a year.