We're running down the best PC gaming gear to be released this year, but it's hard to argue against 2018 being a rather strange one for our favourite gaming platform. On the one hand we've had incredible innovation in some sectors, pushing forward the processing silicon and the graphical fidelity of our machines, while at the same time there's still a feeling that we're just treading water.
Bottlenecks. That's probably a good shout for the word of 2018. For every step forward in terms of PC gaming technology there is something else holding it back. Whether we're talking about mega-core processors, real-time ray tracing, or high dynamic range gaming there is something missing in all of those features or technologies which is currently holding them back from the being vital gaming goodies we all hoped they would be.
That said, if you're a PC gamer, there is greater choice out there than ever before. Even if the prices for the best components is skyrocketing, there has been some winning top-end tech released this year and there are still mainstream options delivering more performance than ever before.
We've picked our favourite products from the slew of new parts released in 2018 to give you a flavour of what this year has brought to the world of PC gaming.
Best processor of 2018
AMD Ryzen 5 2600
It was always going to be a second-gen AMD Ryzen CPU sitting at the top of this list. This has been the year the red team proved the first-gen Ryzen chips weren't just a flash in the pan, and has been able to prove that AMD's processors are here to stay.
The Pinnacle Ridge update may not have been the biggest change architecturally, with the Zen+ design bringing in a touch of efficiency via the 12nm production process, but the refinements AMD made to the overall package has made the latest Ryzen processors serious contenders for the top CPU crown once more.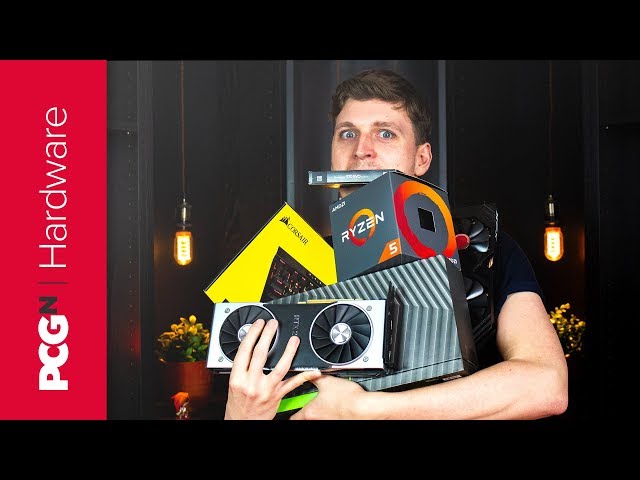 And the Ryzen 5 2600 is our absolute favourite of them all. The 2700X may be able to boast a higher core-count, but in gaming that barely matters, and the missing 'X' just means you need to dig a little into the overclocking potential of the Pinnacle Ridge silicon to ensure you get the same gaming performance as a more expensive 2600X CPU. A six-core, 12-thread processor for $160 (£160) is a hell of a thing at a time where GPU prices are spiralling ever upwards.
Read more: Best CPU for gaming
Best graphics card of 2018
AMD RX 590
This might be a little bit of a controversial choice, mostly because the AMD RX 590 is essentially a very mild respin of the RX 480 graphics card released a couple of years back when Polaris was first introduced the GPU market. But this has been a horrible year for graphics cards, not least because for most of it the mining gold rush has kept stock low and prices artificially high. At least now there is stock of a host of GPUs, though that's causing its own problems…
The RX 590, however, has actually been a little ray of sunshine in an otherwise gloomy sky. Though not necessarily because of its own GPU, more because of the fact that it actually made the RX 580 genuinely affordable again, dropping below $200 on occasion.
We could have made also made a case for Nvidia's RTX 2080 Ti, as it was the only gaming card released this year to really move performance and fidelity on. And maybe if Battlefield V wasn't the only card-carrying member of the real-time ray tracing club the GeForce GPU could have gotten top billing.
But for the fact that, just by existing alone, the RX 590 has given us an affordable mainstream GPU again, it gets the placing ahead of the ultra-expensive, ultra-enthusiast RTX 2080 Ti.
Read more: Best graphics card
Best gaming monitor of 2018
Philips Momentum 436M6VBPAB
For its name alone the Philips Momentum 436M6VBPAB gets our vote as the best gaming monitor released this year. Just trips off the tongue, doesn't it? That and the fact that its 43-inches of 4K screen real estate, and affordable price tag, help make PC gaming great again.
Sure, the HDR functionality isn't on par with the best 43-inch HDR TVs out there, but we're having a nightmare when it comes to HDR for PC gaming anyways, so we don't really count that against it. But if you want to game at 4K then you need to be rocking a big-screen monitor to do it justice, and 43-inches will do just that.
There is a certain amount of dithering up if you press your nose up close to the screen, but the sheer majesty of 4K gaming writ large across a 43-inch monitor is hard to beat. And it comes with that lovely Ambiglow downlighting too, for that RGB LED finish us gamers love. Right? Right.
Read more: Best gaming monitor
Best SSD of 2018
Samsung 970 EVO
The best only got better this year, with Samsung iterating on the excellent 960 EVO SSDs to create the advanced 970 EVO SSD. It uses the same 3-bit MLC NAND (AKA TLC) memory inside it, but uses LPDDR4, as opposed to LPDDR3, for its cache, and comes with a new memory controller.
The Samsung Phoenix controller is still a five core design, but has a higher clock speed to drive just a little more performance out of the attached storage memory. The 970 EVO is faster than its predecessor and now also has a longer warranty too, demonstrating Samsung's confidence in the longevity of its high-speed NVMe SSDs.
With the performance of the EVO you don't need the slightly higher spec 970 Pro version for gaming, leaving this highly affordable, high-performance SSD in prime position for gamers wanting serious storage for their gaming rigs.
Read more: Best SSD for gaming
Best gaming keyboard of 2018
Corsair K70 RGB MK.2 Low Profile
The classic Corsair K70 has long been our favourite gaming keyboard, but since it first arrived none of the subsequent updates the company has made to it have really done anything to improve upon the already excellent design. Even this year's MK.2 design didn't really float our boat… until it launched the K70 RGB MK.2 Low Profile, using exclusive Cherry MX mechanical switches, that is.
It does have a rather premium price tag (translation: it's frickin' expensive) but the low profile keyboard is both gorgeous to type and to game on. It feels less tiring given the flatter layout, and looks far sleeker than the chunkier alternatives too.
It may be expensive, but if you weren't a mechanical keyboard convert before this, the low profile Corsair K70 will make a believer out of you.
Read more: Best gaming keyboard
Best gaming mouse of 2018
Logitech Pro Wireless
It's not just the best gaming mouse of 2018, and it's not just the best wireless mouse either. The Logitech G Pro is quite simply the ultimate gaming mouse. It's sleek, stylish and delivers impeccable performance. In short, it simply can't be pecced.
Those restrained looks might not scream gaming, like some rodents, desperate to be noticed and loved, but it doesn't need to. The wireless Lightspeed connection is flawless, and fast enough that you'd never notice the difference between it and a wired version. Professional esports gamers are content to use this wireless mouse in competition, and it even made our Jacob a better Overwatch player himself.
It comes with support for Logitech's impressive PowerPlay wireless charging system, but even without it you'll get up to 60 hours of playtime from a single charge. Genuinely the best gaming mouse around right now.
Read more: Best gaming mouse
Best gaming headset of 2018
Corsair HS70
The overall best gaming headset hasn't changed this year, the HyperX Cloud Alpha is still an impossible mountain to climb for every challenger. But Corsair has taken some learnings onboard and used the same approach with its latest wireless headphones. It's aimed to combine great value with high-level audio performance, and that's what makes the Corsair HS70 the best gaming headset of the year.
The HS70 might only be sporting a standard 20Hz – 20,000Hz frequency response, but the 50mm neodymium drivers are still able to deliver impressive audio clarity and detail across the 2.4GHz wireless connection. And with a 16 hour battery life they'll do it for the length of a healthy gaming session… and an unhealthy one too.
But it's the fact that Corsair has eschewed the usual wireless tax and is offering this quality wireless headset for less than $100 (£100) is what makes it stand out from the crowd.
Read more: Best gaming headset
Biggest tech surprise of 2018
32-core AMD Threadripper
When we turned up at the AMD Computex press conference we knew what was coming, but that didn't stop it being a pretty huge surprise that the next generation of Threadripper processors was upping its maximum core-count to a massive 32 cores. Yes, 32 cores and 64 threads of processing power in a desktop system, not a server unit sporting an industrial air conditioning unit just to keep the damned thing cool.
It was such a surprise that when we broke the news that AMD was adding a whole lot of cores to Threadripper 2 the day before the press conference, the comment section was filled with disbelief that core-counts could go so high.
Again, it prompted Intel to go to town on its own side, getting its 28-core CPU unveiled and an 18-core chip prepped for the desktop in the Core i9 9980XE. But AMD still owns processor core-counts, and that's not going to change with Zen 2 coming next year.
Wasted opportunity of 2018
HDR gaming on PC
What the hell is up with HDR gaming on PC? There is some game support, a certain level of hardware support, and yet still HDR gaming is practically dead in the water on the PC. And yet on the consoles it's a different story. By hooking up with HDR-capable TVs HDR gaming on consoles just works, why the hell is the PC so different?
Even the Asus ROG PG27UQ, supposedly one of the finest HDR panels for PC, can't deliver a satisfying HDR gaming experience. Partly that's down to the hardware – IPS for black levels and contrast, really? – but there's also serious issues with the software. And I don't think that's just the games either. Windows seems to struggle figuring out whether HDR is on or off and even whether the screen connected to it is capable too.
Not only that, but there are so many different places where you 'turn on HDR' that it can be a minefield knowing which one will work with which game. Do you do it in the Windows display settings, do you do it on the monitor, or do you have to get it all set up in-game first? Or is it all three?!
HDR gaming on PC was a nightmare in 2018 and absolutely needs to improve in 2019.
Most expensive toy you can't really play with yet
Nvidia RTX 2080 Ti
I love the RTX 2080 Ti for its bravado and excess; it's the only card released this year to genuinely deliver a new level of gaming performance. But it only really got released at the same time as the RTX 2080 so that there actually was something with a new level of gaming performance in the Turing generation. Without it the RTX 2080 only just trades blows with the existing, similarly priced GTX 1080 Ti, which would have made the 20-series look a little stagnant.
So yes, the RTX 2080 Ti is a lot of money for that extra gaming performance, but what it does have is the ultimate in real-time ray tracing performance in games. Sorry, in game. Singular. There is only one out there at the moment, and that's Battlefield V. It's a great game, and the DXR / RTX ray tracing feature looks stunning too, but with no other titles using either the ray tracing or the impressive DLSS features there's a lot of goodness waiting to be squeezed out of Nvidia's best gaming GPU.
Weirdest design choice of 2018
HP Omen Mindframe
Guys, really? Really, guys, what were you thinking here? If your HP Omen Mindframe gaming headset is getting too hot around your ears – to the point where it needs to be actively cooled using a juice-guzzling Peltier cooler – then you've got some serious design issues with your cans. It might be the coolest headset around on the inside, but the necessary heat exchange means it gets mighty toasty on the outside.
And it generates condensation too.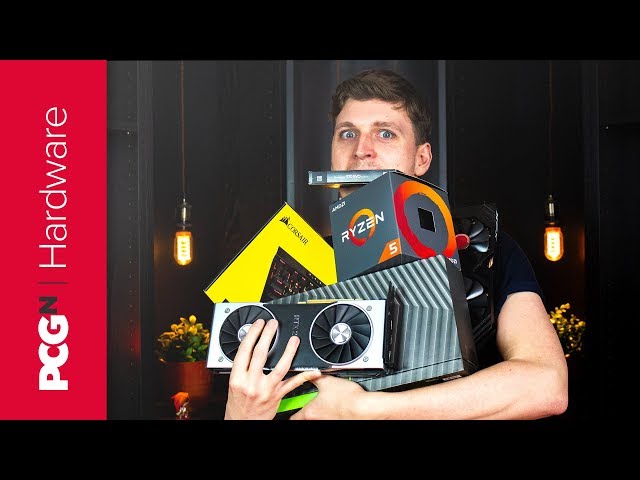 Just what you want on the inside of a $200 powered headset. Yes, $200. You must really have some hot ol' ears desperate for cooling if you need to spend $200 on a headset with slightly above average audio chops.
To be fair we almost handed this award over to the Razer Nari Ultimate, with its head-thumping HyperSense haptic feedback, but even having your skull vibrating isn't quite as bad as the cold drippy experience of the Mindframe. Jeez, even that name. What were you thinking?