When is the Klee banner rerun coming? Klee is a Pyro user who excels at lobbing explosives, well, everywhere. It may not surprise you to find out she's a great DPS character. Players first got the chance to wish upon her banner when she was released last year, so we've had a while to work out what the best Genshin Impact Klee builds are. She also ranks highly in our Genshin Impact tier list, so she's worth keeping an eye out for.
Alongside Klee, Kazuha is also one of the next Genshin Impact banners coming in the 1.6 update. He is one of the new Genshin Impact characters and hails from the upcoming Inazuma region; he's an Anemo Sword user who's travelling with the Crux Fleet of Liyue.
The 1.6 update sees us jet off on little boats to explore islands in the Midsummer Island Adventure. The update also adds new Genshin Impact outfits and various island themed events.
Genshin Impact Klee banner release date
The Genshin Impact Klee banner release date is June 9, when the 1.6 update releases. It looks like from current trial data that the characters featuring alongside Klee will be Fischl, Sucrose, and Barbara.
Klee's Banner

Information is gathered from current trial data, but might change upon release.#GenshinImpact #原神 #Klee #Fischl #Sucrose #Barbara pic.twitter.com/ZZzh5XYXHQ

— Lumie (@lumie_lumie) May 31, 2021
It will be the first banner in the new update, but we can expect Kazuha's banner mid-season. Here's a reminder of all of Klee's abilities.
GENSHIN IMPACT KLEE ABILITIES
NORMAL ATTACK: KABOOM!
Normal attack: Perform up to three explosive attacks to deal area-of-effect Pyro damage.
Charged attack: Consumes a portion of stamina to deal Pyro damage to enemies after a short casting time.
Plunging attack: Klee plunges towards the ground from mid-air, damaging all enemies in her path, dealing area-of-effect Pyro damage when she hits the ground.
ELEMENTAL SKILL: JUMPY DUMPTY
When thrown, Jumpy Dumpty bounces three times, igniting the ground and dealing area-of-effect Pyro damage with every bounce. On the third bounce, the bomb splits into a large number of mines that explode upon contact with enemies, dealing area-of-effect Pyro damage. This skill starts with two charges.
ELEMENTAL BURST: SPARKS 'N' SPLASH
When activated and for the duration of this ability, Sparks 'n' Splash is continuously summoned to attack nearby enemies for area-of-effect Pyro damage.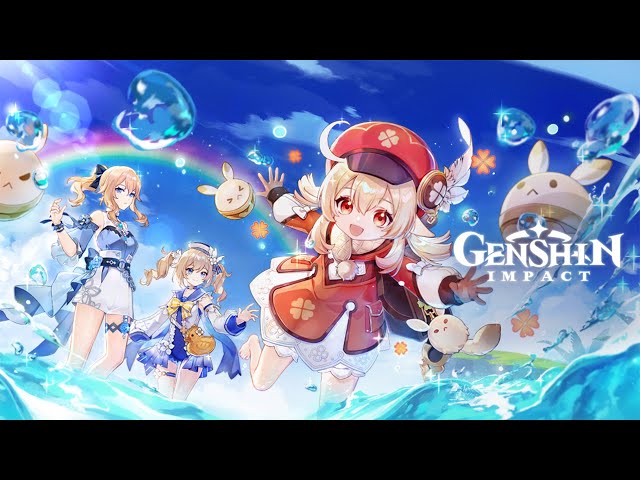 KLEE CONSTELLATIONS
Chained Reaction: Attacks and skills have a chance to summon a spark that bombards enemies. It deals damage equal to 120% of Spark 'n' Splash's damage.
Explosive Frags: Being hit by Jumpy Dumpty's mines decreases an enemy's defence by 23% for ten seconds.
Exquisite Compound: Increases the level of Jumpy Dumpty by three, up to a maximum of 15.
Sparkly Explosion: If Klee leaves the field during the duration of Sparks 'n' Splash, her departure triggers an explosion that deals 555% of her attack as area-of-effect Pyro damage.
Nova Burst: Increases the level of Spark 'n' Splash by three, up to a maximum of 15.
Blazing Delight: While under the effects of Spark 'n' Splash, other members of the party will continuously regenerate energy. When Sparks 'n' Splash is used, all party members will gain a 10% Pyro damage bonus for 25 seconds.
KLEE PASSIVE TALENTS
Pounding surprise: When Jumpy Dumpty and normal attacks deal damage, Klee has a 50% chance to obtain an explosive spark. This spark is consumed by the next charged attack, which costs no stamina and deals an extra 50% damage.
Sparkling burst: When a charged attack results in a critical hit, all party members gain two elemental energy.
All of my treasures: Displays the location of nearby resources unique to Mondstadt on the mini map.
If you're looking to get the most out of the game's latest update, then our Genshin Impact wood and Serenitea Pot guides will lend you a helping hand.