Rainbow Six Siege Year 5 promises all of the usual annual additions, including plenty of Rainbow Six Siege new operators, fresh maps, weapons, and events. Unfortunately, as we're still seeing out the end of Year 4 with Operation Shifting Tides, we still have quite a while to wait until exact details about the Rainbow Six Siege Year 5 operators, pass, and roadmap are revealed.
However, thanks to various promises, leaks, and datamines, we do already know a few tidbits about the upcoming 12 months of Siege, from unreleased gadgets and events, to the likely release date and price of the Rainbow Six Siege Year 5 Pass. So join us as we collate all the rumours and info in one easy to navigate feature.
You can expect most of this information to drop at a reveal panel during the Six Invitational 2020 in Montreal, alongside some official details on the year pass and a roadmap showing what nations the Year 5 operators will hail from. That's how Ubisoft has chosen to premiere each new year of content for four years on the trot, so we'd be surprised if there's any major changes for the Year 5 reveal.
When is the Rainbow Six Siege Year 5 reveal?
If this year plays out like the previous four, then you can expect the Rainbow Six Siege Year 5 reveal to take place at a developer panel during the Six Invitational 2020. These reveals usually take place on the final day of competition, between the last semi-final and the grand final – that's February 16, 2020.
Will there be a Rainbow Six Siege Year 5 Pass?
It has now been confirmed that there will be a Rainbow Six Siege Year 5 Pass, and that it will feature six Year 5 Operators rather than the typical eight.
The leak has been confirmed by game director Leroy Athanassoff, who says: "We are investing our resources on building more features and systems that will impact every player in every match".
Rainbow Six Siege's EMEA Community Management Lead, Ubi-Fanch, expanded on this, adding that "The Year 5 Pass reflects this direction focused on features that benefit all players, not just those playing the newest Operators. It will lead to additional content for all players, such as free events, extensive reworks, and other core gameplay features. More details on why we are releasing six Operators in Year 5, as well as how that leads into Year 6 and beyond will be shared during the Six Invitational in February."
Everything else from the Year 5 Pass leaks looks standard, however, leading some players to guess that a second Operation Health is on the horizon – others assume this means we'll get two complete operator reworks for one season.
What is the Rainbow Six Siege Year 5 release date?
As we've had quite a few Rainbow Six Siege operations (or seasons) it's getting pretty easy to figure out when the next one is going to drop. The Rainbow Six Siege Year 5 release date is March 10, 2020 if our best guess is correct. Traditionally, Ubisoft puts a new season of content live on test servers on the Tuesday following the season reveal – the new content stays there for three weeks before moving over to live servers.
What do we know about the Rainbow Six Siege Year 5 operators?
Not much in terms of official details, but datamines have given us some gadget clues and we know we're much less likely to see new weapons in Year 5, as we're continually seeing Ubisoft recycling current kit options.
First off, the first set of Rainbow Six Siege Year 5 operators are likely to come from Greece. There are a number of hints to this that fans have spotted from artwork released over the course of Year 4, including a cosmetic reward from the tester Rainbow Six Siege Battle Pass that features flight information to Greece, plus an official piece of artwork from the Six Invitational 2019 about Harry's plan for the year, as mapped out on a planning board.
Fans spotted a heap of teases for Year 4 operators on the image, but there was an area on the planning board under the tagline 'Project R6 Vision' with images of Ancient Greek architecture. Looking at the in-game description for the Battle Pass cosmetic also reveals this tantalising line, "This is not a plane ticket. It's an invitation for a front row seat to the future of Rainbow. I call it The Program. You may well call it home."
Lots of time, money, and effort goes into any addition to a major game and its marketing materials, so there's no doubt Rainbow Six is going to Greece, it's just not clear if it will be to recruit two new operators or as a part of the upcoming narrative.
In terms of gadgets, we have some vague hints from reliable Siege leaker Komora, who hints at an operator with an ability reminiscent of the Kool-Aid man, so perhaps we'll have an attacker capable of instantly charging through soft walls. The same source also mentions an operator who can dual-wield weapons, and a drone operator who can heal teammates, which would make for some very interesting comps if the operator is on the attacking team. All of these are incredibly vague and it's crucial to flag that Ubisoft has been known to abandon operator gadget ideas quite often.
The annual pass leak also shows off some new art that may reveal the first two new operators of Year 5, but it's hard to glean any substantial details about them or their gadgets.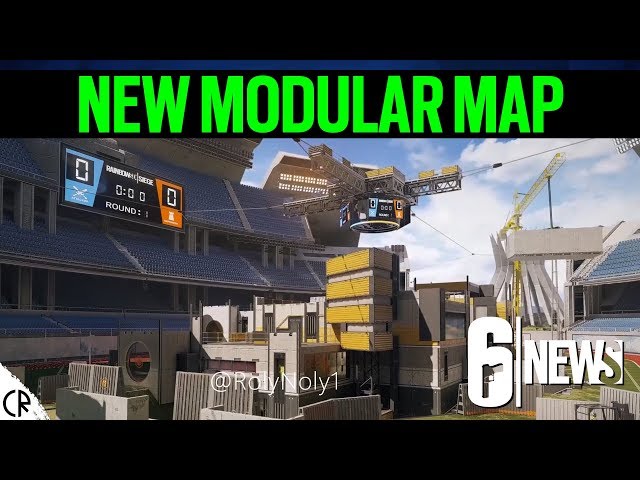 Will Rainbow Six Siege year 5 have new maps?
Though Ubisoft has massively slowed production on new maps following a number of duds, you can count on Year 5 having a mix of new and reworked maps.
In terms of planned reworks, it's likely that we'll see Chalet, Oregon, or Skyscraper go under the knife in an effort to increase their competitive viability. Chalet and Oregon are widely regarded as having only two viable bomb sites each, while Skyscraper barely has one competitive bomb site.
Will there be a Year 5 Battle Pass?
There is no solid confirmation that Ubisoft is going to take the Road to SI Battle Pass model and roll it out as a season-length or annual monetisation model. We have run the maths to see if the Road to SI Battle Pass is worth it, and it most definitely is compared to other microtransactions in Rainbow Six Siege.
That's all from us. Hopefully Year 5 will bring a few new faces to our list of the best Rainbow Six Siege operators, depending on how you feel about the current meta that is.