Any new game idea to come out of developer FromSoftware is worth dissecting, especially after the unqualified masterpiece that was Bloodborne. And Sekiro isn't just any idea: it's the legend of the ninja reworked for a Dark Souls audience.
After watching director Hidetaka Miyazaki and his team filter the castles and steel-plated killers of Western history through their twisted imaginations for years, it's a terribly exciting prospect to see them do the same with Japanese culture. Specifically, Sekiro takes us to a fantastical version of late 1500s Sengoku Japan, at a point where tensions are rising and bloody conflict is guaranteed. Sekiro is our protagonist, the "one-armed wolf" – a hard-hearted warrior out to rescue his young noble master and bring revenge to his arch nemesis.
The studio has promised a friendlier and more approachable third-person action game than those in their recent past. But ironically, at least until information on the game becomes a little less scarce, this is the most opaque FromSoftware game around. Read on and we'll help make things a little clearer. Here's everything we know about Sekiro: Shadows Die Twice.
Sekiro: Shadows Die Twice release date
The Sekiro: Shadows Die Twice release date is March 22, 2019. That info came to us early thanks to the game's Steam page – so in case you were worried about a delayed PC release, you can rest easy – and it was confirmed shortly after by FromSoftware on Twitter.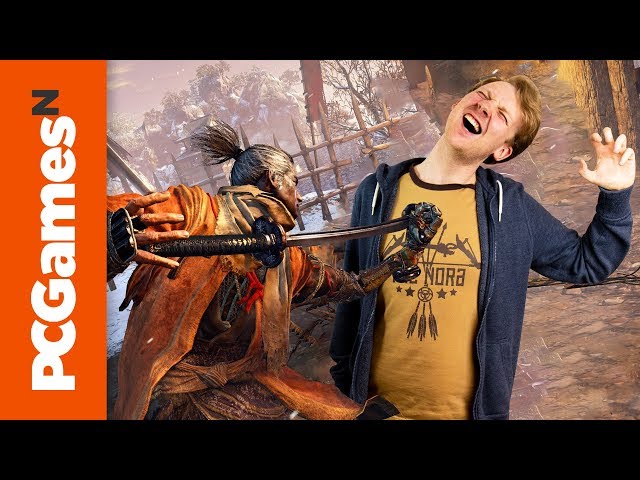 Sekiro: Shadows Die Twice gameplay
FromSoftware describes Sekiro: Shadows Die Twice as a third-person action-adventure game with RPG elements, rather than an action-RPG, specifically. It could hardly be more distinct to the Souls games, despite Hidetaka Miyazaki being the Sekiro: Shadows Die Twice's director.
One of the biggest changes will be to difficulty. Sekiro is published by Activision, who has requested that FromSoftware tone down their famously gruelling approach to challenge. Miyazaki told Japanese site Game's Talk that his team has taken on the publisher's principles for "appropriate onboarding," which means that Sekiro: Shadow's Die Twice's world design takes cues from Dark Souls. In fact, it is clear that Sekiro and Dark Souls could learn a lot from each other.
Related: The games like Dark Souls you need to play
We now also understand what the title, Shadows Die Twice, means. During our hands-on with the game we were killed, but could then immediately resurrect and attack the enemy that killed us. There is a hefty limitation to this of course, you can't revive again until you've defeated an enemy. By attacking enemies, you gain back your ability to revive, so you can't just keep dying and reviving over and over again.
Another new feature is Sekiro's stealth combat, which is as excellent as it precise. You can either use the grapple hook to stalk targets from above, hide in foliage and snatch enemies, or tuck yourself up against a wall for a stealthy finisher on whoever rounds the corner.
Sekiro: Shadows Die Twice's difficulty will place more emphasis on killing cleverly, rather than with skill, but Miyazaki has stated that he wants the game to be tougher than FromSoftware's previous games: figuring out how to take down enemies is the tough bit.
When the planning stage is over and it's actually time to attack a foe then you will have to eliminate them using moves called Shinobi Death Blows. Before you can do that you need to whittle down your opponent's posture – a new mechanic that replaces poise and stamina – until they stagger by landing hits or successfully executing a parry, which will leave them open to an incredibly cool finisher. FromSoft is demanding perfection from Sekiro players: skilful parrying will mean you'll always feel on the edge of death, but trying to constantly block – or dodge, replaced by a new jump mechanic – is suicide.
Sekiro: Shadows Die Twice's progression system is very different from the Souls series: the game will feature no character classes, stats, levelling up, or souls to hoard and lose – all of which must have huge knock-on effects for its combat.
A new Sekiro Hirata Estates video shows off mechanics like swimming and revolving doors. Swimming looks like it will be used primarily to aid in stealthy traversal, while revolving doors take the place of Dark Souls' illusory walls by hiding secret areas from view.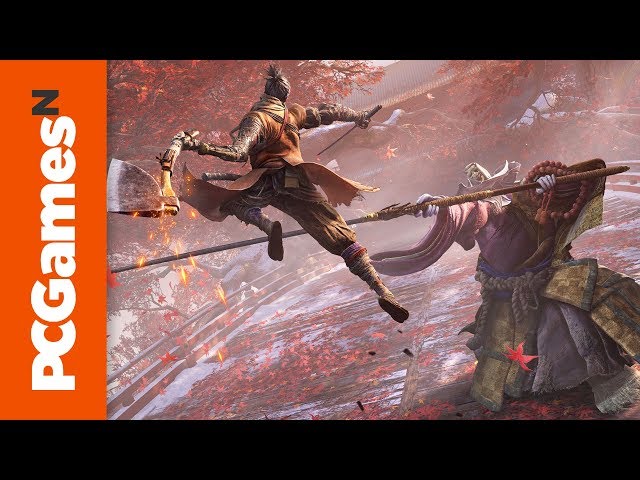 Sekiro: Shadows Die Twice skills
Sekiro isn't named the "one-armed wolf" for no reason. The protagonist has lost a limb to dismemberment, and replaced it with a ningishu, a prosthetic that allows him to attach an array of ninja equipment.
Chief among those is the kaginawa, a grappling hook used to get around the map. Miyazaki hopes we'll use it to explore the vertical space of the world FromSoftware has created. Given the studio's fondness for hiding clever shortcuts in plain sight, it's likely the hook will allow us access to new heights should we master it.
Related: Level up with the best RPGs on PC
The prosthetic is something of a Swiss Army knife: not only can you use your ningishu as a grappling hook, you can also break enemy's shields, perform firecracker explosions, and much more. The volume and variety of Sekiro: Shadows Die Twice are what FromSoft hopes will keep you engaged for multiple playthroughs, but we don't know if there will be a New Game Plus option, yet.
From are ditching the progression system with which we're familiar from the SoulsBorne games, however. This time we won't be harvesting souls or blood vials in favour of various Sekiro skill trees that can be discovered in the game's world. You'll now gather experience points from defeated foes and spend it on upgrading passive and active abilities in the trees you find. You won't lose them on death, either.
These skill trees will include the shinobi tree which focuses on crowd control and evasive trickery and the samurai one which hones your standard melee attacks. You will also upgrade your heath by finding prayer beads – finding four will boost the damage you can weather and your posture.
Sekiro: Shadows Die Twice story
In the Sekiro: Shadows Die Twice story you play as a shinobi tasked with keeping a prince safe in Sengoku-era Japan, a better-known character than the nameless protagonists of previous FromSoft titles. The prince is the descendant of an ancient clan that has been wiped out, and at the start of the game the prince is kidnapped by a commander from the Ashina Clan, who believes the child is vital for protecting their lands from an invading force.
Despite the protagonist's more prominent role in the narrative, Sekiro's lore is still something that, at least partially, is cryptic and hidden away as it was in the Souls-borne games. "We hope that the initial story, at least from the outset will be easier to grasp and understand, Miyazaki explained in an interview with Edge. "But our general philosophy hasn't changed. It will still be a largely fragmented experience that the player will have to piece together themselves."
Obviously, there are supernatural elements at play as well: the trailers have shown off massive enemies projectile vomiting on their swords, such as the Corrupted Monk. Elsewhere in the Edge chat, Miyazaki said "We're not 100% rooted in reality… "Of course it's important to retain a sense of faithfulness, but we're not trying to make a historical depiction of the Sengoku era."
Sekiro: Shadows Die Twice multiplayer
Despite FromSoftware's history of player invasion and assistance, there will be no Sekiro: Shadows Die Twice multiplayer.
"There is no multiplayer, since it is a fixed hero and a fixed class," Miyazaki told Game's Talk. "I removed the restriction imposed by multiplayer." Whatever restriction multiplayer imposed on Miyazaki's design in the past, it's there no longer. Let's hope the trade-off will be worth it.
SEKIRO: SHADOWS DIE TWICE TRAILER
You can watch the Sekiro: Shadows Die Twice trailer above, which features plenty of swishing swords and grappling hook action.
sekiro: Shadows die twice system requirements
Sekiro: Shadows Die Twice's system requirements shouldn't stress the majority of rigs, so chances are you should painlessly get into the ninja action by the time the release date dawns. Here are the minimum and recommended requirements:
Minimum:
OS: Windows 7 64-bit | Windows 8 64-bit | Windows 10 64-bit
Processor: Intel Core i3-2100 | AMD FX-6300
Memory: 4 GB RAM
Graphics: NVIDIA GeForce GTX 760 | AMD Radeon HD 7950
DirectX: Version 11
Network: Broadband Internet connection
Storage: 25 GB available space
Sound Card: DirectX 11 Compatible
Recommended:
OS: Windows 7 64-bit | Windows 8 64-bit | Windows 10 64-bit
Processor: Intel Core i5-2500K | AMD Ryzen 5 1400
Memory: 8 GB RAM
Graphics: NVIDIA GeForce GTX 970 | AMD Radeon RX 570
DirectX: Version 11
Network: Broadband Internet connection
Storage: 25 GB available space
Sound card: DirectX 11 Compatible