Otherwise known as Artificial Island, Tower of Fantasy 1.5 is the first major update for the global version of Hotta Studio's anime game since launch – and it's a big one. Not only do Wanderers get a new addition to the Tower of Fantasy map to explore, but the brand-new home system feature ensures a place to rest your wandering feet at the end of the day. What's more, the Tower of Fantasy Claudia banner heralds the global release of the simulacrum of the same name, which is sure to shake up your current team composition.
The mysterious Artificial Island is billed by Hotta Studio as an uncharted wonderland, but we've got everything you can expect from Tower of Fantasy 1.5. Without further ado, here's everything we know about the update, including the debut of eight-man raids.
Tower of Fantasy 1.5 release date
Tower of Fantasy 1.5 was released on September 15, 2022. This Tower of Fantasy 1.5 teaser trailer offers a sneak preview of the update.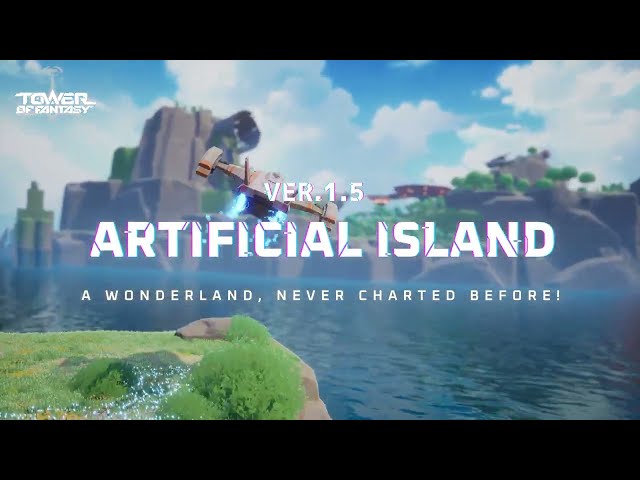 Tower of Fantasy 1.5 Claudia banner
Only one new playable simulacrum has been announced for Tower of Fantasy 1.5 so far. Claudia is the latest Tower of Fantasy character to be added to the free PC game's global roster, and her banner went live at the same time as the Artificial Island update.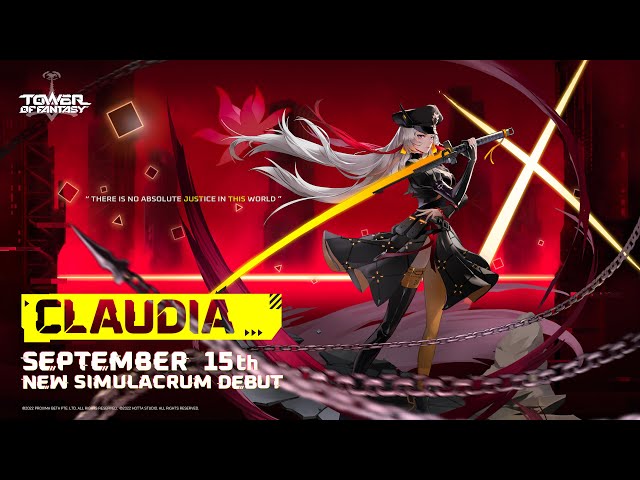 Armed with her deadly Guren Blade, Claudia is a DPS simulacrum with extremely high mobility. She joins Shiro as the second simulacrum with physical resonance available in the global version of Tower of Fantasy. If you're a fan of fast-paced melee combat, we recommend saving up your Special Order currencies for her limited Tower of Fantasy banner.
For a full overview of everything there is to know about the tenacious Hykros Executor, check out our Tower of Fantasy Claudia primer.
Tower of Fantasy 1.5 locations
As for new locations, the majority of the content introduced in Tower of Fantasy 1.5 takes place on the eponymous Artificial Island, and features three mountains available to explore: Mount Sandy, Stone Mountain, and Feiyun Mountain.
Artificial Island is available to Wanderers at level 501 or above. After completing the relevant missions, you can expect to be whisked away to distant shores via the Artificial Island jet. Check out our guide on how to get to Artificial Island if you're unsure where to go.
Tower of Fantasy home system
A home base is a quintessential feature of the best MMORPGs out there, so it's no surprise that Tower of Fantasy 1.5 introduces the ability to design your very own home away from home in Aida.
The Construction feature unlocks once certain exploration progress conditions have been met. It remains to be seen exactly how extensive structure customisation will be, but the Tower of Fantasy 1.5 teaser trailer includes thriving allotments, smart servants, and even pets.
Tower of Fantasy 1.5 Aida Cafe event
Who's hungry? The Tower of Fantasy Aida Cafe limited time event grants Wanderers the rare opportunity to become the temporary manager of the Aida Cafe. Every lunchtime, three mystery customers will descend upon the cafe for a five-course meal, each with their own specific food preferences. These mystery customers are often hard to please, but serving up their favourite dishes can net you a coveted red nucleus or special voucher.
For a full breakdown of each customer's food preferences and menu recipes, check out our ultimate Tower of Fantasy Aida Cafe event guide.
Tower of Fantasy 1.5 world bosses and raid system
With a new location comes a new world boss, and Tower of Fantasy 1.5 includes the Interdimensional Frostfire Dragon, a mechanical amphiptere of epic proportions. Slaying this big beastie requires joining an eight-man raid party, and the rewards include the Fortress Armor set – the best equipment available in the game.
The Interdimensional Frostfire Dragon is joined by the Devourer, an enormous bionic frog wreaking havoc in the Ring Arena. Like most world bosses, the Devourer is incredibly tough, but likely won't require as much coordination to down as the Frostfire Dragon.
That's everything we know about Tower of Fantasy 1.5. If you're not already level 50, take a look at our Tower of Fantasy leveling guide to become eligible to travel to Artificial Island. Alternatively, take a look at our Tower of Fantasy tier list to help you construct the best team compositions for tearing through world bosses, as well as our guide to acquiring the Tower of Fantasy Voyager vehicle parts, so you can explore Artificial Island in style.