Want to know the Genshin Impact 3.1 release date and what new content to look forward to? During the 3.0 livestream, developer Hoyoverse made the unusual move and announced the release date for the next few versions ahead of time. A 3.1 livestream followed on September 16, telling us everything about the anime game's next update.
We now know about new Genshin Impact characters Candace, the guardian of the upcoming Aaru Village, Nilou, who players might remember from the her performance at the Sabzeruz festival, and Cyno, the General Mahamatra of the Akademiya. But that's not all there is to discover in Genshin Impact 3.1. Let's take a look at everything we can expect from the next update of the RPG game.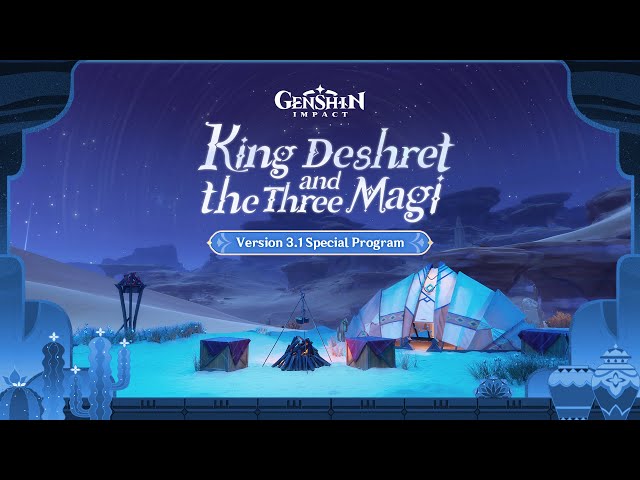 Genshin Impact 3.1 release date
The Genshin Impact 3.1 release date is September 27, 2022. Specifically, at 3pm PDT, 6pm EDT, 11pm BST on September 27, and 12am CET, 8am AEST on September 28. As with 3.0, this upcoming patch cycle is due to last five weeks.
As always with a new Genshin Impact update, there will be considerable downtime while the servers are updated. Thanks to a blog post from Hoyoverse, we know that Genshin Impact 3.1 maintenance will last about five hours.
Genshin Impact 3.1 banners
While the three upcoming Genshin Impact characters Candace, Nilou, and Cyno were officially announced on August 22, the September livestream revealed details of the next Genshin Impact banners.
Phase 1 Event Wishes
From the first day of the 3.1 update, or phase one, the new Cyno banner, Twilight Arbiter, will become available in which you'll be able to use your Primogems to try and draw the new five-star character with boosted rates. You may also be able to try for popular existing character Venti as 3.1 phase one sees the return of his banner, while four-star character Candace will appear in both banners.
Phase 2 Event Wishes
The Nilou banner will then become available in phase two of the update, allowing you to try and pull for the new Hydro user. Meanwhile, there will be a rerun of the Albedo banner. Take a look at our Albedo build guide if you're looking to add the S-tier character to your team this time around.
Genshin Impact 3.1 map update
Despite releasing the brand-new Sumeru region in the last update, Hoyoverse are already adding a new area to Genshin Impact in 3.1: Great Red Sand. This desert area isn't an entirely new region, and in fact is an addition to Sumeru, but will still provide a hefty amount of new content for a minor update. Great Red Sand is made up of three new areas: Hypostyle Desert, Land of Lower Setekh, and Land of Upper Setekh.
They're the basics of what you need to know about Genshin Impact 3.1 before its September release date. Follow the links above for more details on the new characters and banners, plan your new characters' setups with our best Nilou build, Cyno build and Candace build, and check out our Genshin Impact tier list for the latest rankings.