Looking for the best Genshin Impact Venti build? Now that it's been confirmed that this popular Genshin Impact character is getting a banner rerun in the 2.6 update, it's about time we took another look at this Anemo bow wielder to see how we make the most of his abilities.
The best Venti build needs to take into account this five-star fiend's primary role – keeping enemies suspended in mid-air while switching to other DPS focused characters to unleash the pain. Venti does this by using a combination of ranged attacks and Anemo-based skills (that's wind to the rest of us).
Once you have Venti, he will be invaluable when exploring new regions as his support skills can amplify other elements. You can easily pair him with Pyro characters to create burning tornadoes. Because of this, Venti is best played in a support role, although Venti has plenty of inherent DPS potential if you want to go in that direction. Here's what you need to get to create the best build for Venti in Genshin Impact.
Best Genshin Impact Venti support build
Weapon: Elegy for the End
Artifact: Viridescent Venerer (four-piece)
The Elegy for the End is a great choice for a support-focused Venti. Not only does it increase Venti's elemental mastery, but you can trigger its (rather long-winded) ability even when he isn't on the field, ultimately benefiting the whole team by increasing their elemental mastery by 100 and attack power by 20%. Another potential option would be Skyward Harp, although this leans more towards Venti's own DPS capabilities.
Razer DeathAdder V2 Pro – Genshin Impact Edition Razer DeathAdder V2 Pro – Genshin Impact Edition Razer $139.99 Buy Now Network N earns affiliate commission from qualifying sales.
In terms of artifacts, there is one leading choice as of patch 2.5; four-piece Viridescent Venerer. With all four items, you not only get the extra Anemo damage from the two-piece, but you also get a 60% increase to swirl damage, and enemies will have their elemental resistance towards the other non-Anemo element in the swirl reduced by 40% for ten seconds. Given Venti's affinity for crowd-control and triggering swirl (as well as literal tornados), this artifact set is essential.
If you really want to get into the weeds, you'll further want to seek out Venerer artifacts that specifically give bonuses to elemental mastery, and failing that, some combination of attack, anemo, or crit boosting.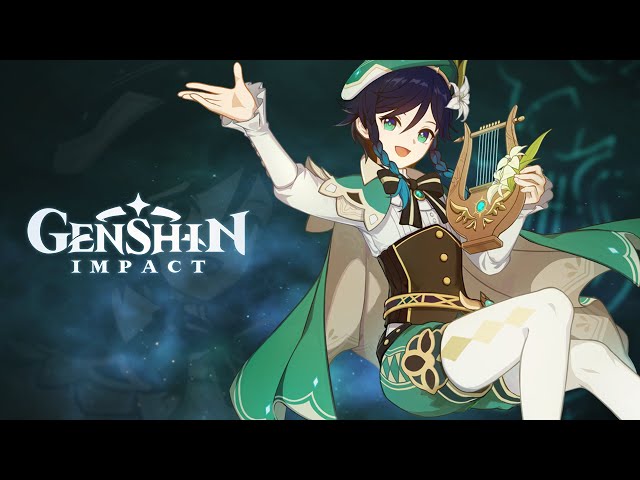 The best Venti team composition
A good Venti team composition places our "tone-deaf bard" in a sub-DPS slot, only coming onto the field to trigger his elemental burst to set up high-damage combos with other characters. Mona and Ganyu would be good candidates here, providing some Hydro/Cryo freeze combos. The upcoming Genshin Impact character Ayato is another hydro character who might become a good candidate here as well.
You'll also want a healer in the support slot – Diona or Barbara are decent candidates, as is Kokomi.
The best Venti build F2P
The best Venti weapon for free-to-play players is the Favonius Warbow. You can only obtain the weapons mentioned above by wishing in the weapon event banner or the standard Invocation banner. The Favonius is a four-star bow you can get from the Long Shot quest – its ability leans towards quicker energy regen, which is handy for triggering Venti's abilities more regularly.
All artifacts are free as you can't get them via wishing, but the Viridescent Venerer is only obtainable from the Valley of Remembrance. If you're struggling to get all four pieces, we have seen some DPS-focused builds run two-pieces Gladiator's Nostalgia, which gives a flat 18% attack increase, to pair with the Venerer's two-piece buff to Anemo damage.
In terms of team composition, Barbara and Amber are two free characters that you get really early on that can support a Venti team. Barbara is one of the best healers in the game, and Amber's a good ranged Pyro bow-user that can interact with Venti's swirl and elemental burst really well. Someone like Xiangling can then be a back-up character for you use in-between Venti's burst ability, when enemies are back on the ground.
Razer Iskur X – Genshin Impact Edition Razer Iskur X – Genshin Impact Edition Razer $499.00 Buy Now Network N earns affiliate commission from qualifying sales.
That's everything you need to know about the best Venti build, and we can't wait for his banner rerun at the start of the next update. If you want to start collecting primogems, make sure you check out our Genshin Impact codes guide.