Want to know what the best Genshin Impact Kokomi build is? Sangonomiya Kokomi last appeared in a banner alongside Raiden Shogun as part of the second half of the 2.5 update. While you're busy collecting Kokomi's ascension materials, you may also want help deciding how best to kit her out.
The five-star Hydro catalyst wielder is the leader of the Sangonomiya Resistance and resides on Watatsumi, one of the Inazuma islands introduced in Genshin Impact 2.1. She shares many similarities with Barbara, and is often used as a support character, but there's room for her to be more than a healer in the best Genshin Impact Kokomi build. Kokomi's abilities may surprise people with her potential for elemental skill damage, which scales based on her max health.
She's currently A tier in our Genshin Impact tier list – we think she's highly valuable in the right party. The recent introduction of bleed monsters didn't have the game-changing effect people thought it might, but that doesn't mean healers aren't useful. Read on for our thoughts on the best Kokomi builds.
GENSHIN IMPACT KOKOMI SUPPORT BUILD
The best Genshin Impact Kokomi support build is:
Catalyst: Thrilling Tales of Dragon Slayers
Artifacts: Tenacity of the Millelith (four-piece)
Kokomi's initial pitch is as a support character that can specialise in healing – but she can also act as a decent buff for other DPS characters in your team. While the Everlasting Moonglow is the classic recommendation for Kokomi's catalyst, the Thrilling Tales of Dragon Slayers is an excellent alternative.
Related: Upcoming Genshin Impact characters
When you switch from Kokomi to another character with this weapon equipped, the incoming character has their attack increased by up to 48% for 10 seconds, which is a powerful buff just on its own. This effect can only be used once every 20 seconds, but there's plenty more that Kokomi can do in the interim.
The four-piece Tenacity of Millelith artifact set significantly boosts her support capabilities While equipped, whenever an Elemental Skill hits an opponent, the attack of all nearby party members is increased by 20% and their Shield Strength is increased by 30% for three seconds. This effect can be triggered once every 0.5s, and can still be triggered even when Kokomi is off the field."
Kokomi's Elemental Skill is Kurage's Oath, which summons a Bake-Kurage (baby jellyfish) to the field that lasts 12 seconds, even if Kokomi isn't on the field. It deals Hydro damage to surrounding opponents and heals nearby active characters by a set amount that's based on Kokomi's maximum HP. Between the Millelith set, Dragon Slayer catalyst, and the abilities of the Babe-Kurage itself, you already have some decent buff combos powering up whoever you choose to bring in when Kokomi leaves the field.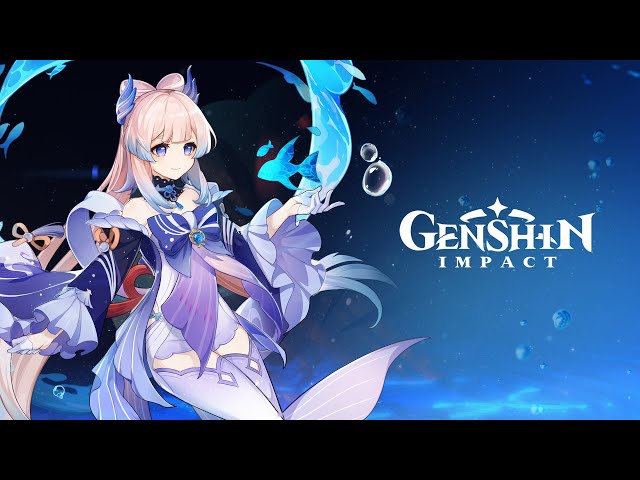 When your Babe-Kurage is about to run out of juice, you can bring Kokomi back in and trigger her Elemental Burst, Nereid's Ascension. While this ability is pretty decent in its own right, the real benefit lies in its interaction with one of Kokomi's passive skills, Tamanooya's Casket, which resets the Babe-Kurage's timer when the burst is triggered.
The Elemental Burst also gives Kokomi the Ceremonial Garmade buff, which while she's on the field buffs her Bake-Kurage, and allows her to restore the HP of her party members via normal or charged attacks.
Razer DeathAdder V2 Pro – Genshin Impact Edition Razer DeathAdder V2 Pro – Genshin Impact Edition Razer $139.99 Buy Now Network N earns affiliate commission from qualifying sales.
Nereid's effects will disappear when you take her off the field, but Dragon Slayer's ability will trigger again, giving whoever comes in next another 48% boost to attack – rinse and repeat, and you've got yourself a pretty decent DPS-support combo.
Other Kokomi build options that focus on sub-DPS strategies include pairing the Everlasting Moonglow catalyst with the relatively new Ocean-Hued Clam four-piece set. This taps into Kokomi's ability to heal party members quite easily, allowing for a devastating explosion that will deal damage based on the amount of healing that Kokomi is able to dish out.
Best Kokomi team comp
Ayaka and Kazuha are some of the better DPS characters to pair alongside Kokomi in her support role. Kazuha, for example, can activate the swirl elemental reaction and deals lots of damage on his own. Ayaka can freeze 'Wet' enemies (which Kokomi will helpfully provide) and deal powerful Cryo attacks. Both will get additional buffs from Kokomi's Dragon Slayer switch buff and Millicent combo effect with Babe-Kurage.
Raiden Shogun's elemental skill pairs well with Kazuha, providing him with a strong damage buff to eliminate enemies even faster. You could also take Shenhe, another Cryo character for 'Freeze' team compositions that focus on Hydro/Cryo combinations. Our Genshin Impact elements guide breaks down all of the elemental reactions, so you can get a feel for how this is supposed to work.
The Best Kokomi F2P build
The great thing about the Thrilling Tales of Dragon Slayers catalyst is that it's free-to-play friendly as a three-star weapon, available in the Beginner's Wish as well as the standard and all other special event banners.
Heart of Depth's four-piece set increases normal and charge attack damage by 30% for 15 seconds, on top of the 15% Hydro damage boost, which can be useful in combination with Kokomi's Elemental Burst. A two-piece Heart of Depth can also pair with a two-piece Maiden Beloved, which increases healing by 15%.
In terms of team composition, an Electro Traveller build is a good alternative to Raiden Shogun, and Lisa and Kaeya are also good free Genshin Impact characters to pair with Kokomi. A cheaper alternative would be the four-star Sucrose, who can group together enemies using her Anemo abilities.
Related: read our Genshin Impact free weapons guide
And that's everything you need to create the best Kokomi build in Genshin Impact. Have you had a chance to read our Genshin Impact fishing guide yet? If you catch enough rare fish, you can unlock The Catch, a special four-star polearm. Also, don't forget to check out our guide on Genshin Impact codes to claim free primogems, mora, and more.
Original contributions by Christian Vaz.