When is the Resident Evil Village PC release date? After some hefty leaks, Capcom unveiled Resident Evil Village, or Resident Evil 8 (Resident Evil 8age?) at the PS5 reveal event. This reveal was somewhat unexpected considering Capcom has already released two Resident Evil games since the start of 2019, the lauded Resident Evil 2 and 3 remakes.
It seems Capcom is ramping up efforts on the Resident Evil series with a rumoured Resident Evil 4 remake possibly also on the horizon. True to the leaks, Resident Evil Village will reprise the role of Biohazard's protagonist Ethan Winters, who, after the tumultuous events of the Baker house is now living the good life with his rescued wife Mia. Aww, cute.
Now everything's all sunshine and roses, it's time – once again – to put Ethan through hell as Umbrella agent Chris Redfield arrives on the scene. Biohazard received rave reviews for its brave switch to first-person horror, claustrophobic and unsettling location, and for finally bringing the series back to survival horror. So, what direction will Resident Evil Village be heading in? Here's everything we know, from the Resident Evil Village release date, to enemies, how upgrades work, locations, and more.
Resident Evil Village PC release date
The Resident Evil Village PC release date is May 7, 2021.
Resident Evil Village trailer
You can check out the latest Resident Evil Village trailer below which shows the eerie village we'll be exploring as well as the enemies and characters we'll meet.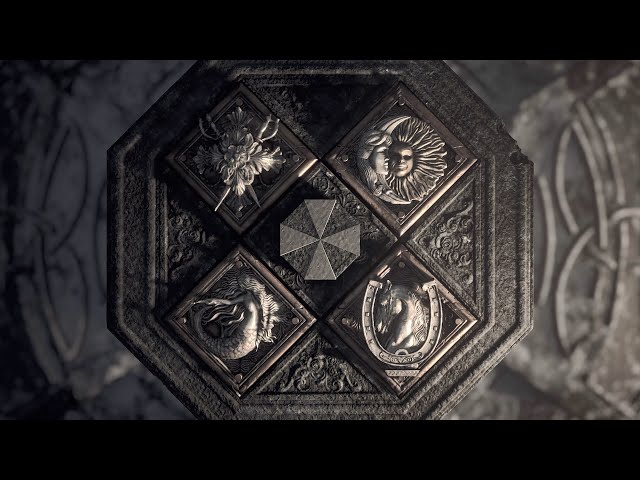 Resident Evil Village gameplay
Resident Evil Village is a first-person survival horror game, Capcom associate manager of social media and community Kellen Haney says in a PlayStation blog post, "The return of a first-person perspective will bring a visceral edge to combat, as well. Each encounter is a personal fight for survival against terrifying foes, forcing you to keep a watchful eye on the environment and constantly looking for resources and enemies in unknown territory."
Resident Evil Village will also feature "a lot more freedom" than Resident Evil 7, offering space to experiment as has been possible in the recent Resident Evil remakes. Exactly what this means in terms of gameplay it's hard to fathom, but if you found the linear style of Resident Evil 7 a little too claustrophobic then this is good news.
There will also be a "greater focus on combat" so expect more action, along with the classic Resident Evil inventory management, forcing players to be careful with resources.
Speaking of resources, take a look at how weapon upgrades work in Resident Evil Village. In addition to the feral folks that inhabit Lady D's village, there's plenty of farm animals milling around or fish in ponds, minding their own business, which you can hunt in Resident Evil Village and use animals like pigs and rams to craft recipes.
You'll have to shoot them for meat that can be cooked by the Duke's Kitchen into meals for permanent upgrades. Four poultry and one meat can make a 'Bird and Beast Pilaf', which permanently reduces the damage taken while guarding.
You can also upgrade weapons by spending Lei – the game's currency – at the Duke's Emporium. Lei is occasionally found when you kill one of the enemies skulking around the village, or by selling valuable gems to the Duke. You can upgrade a weapon's power, rate of fire, reload speed, or ammo capacity, as well as buy attachments for weapons. The sniper rifle has an attachment that reduces the swaying while aiming down the sights.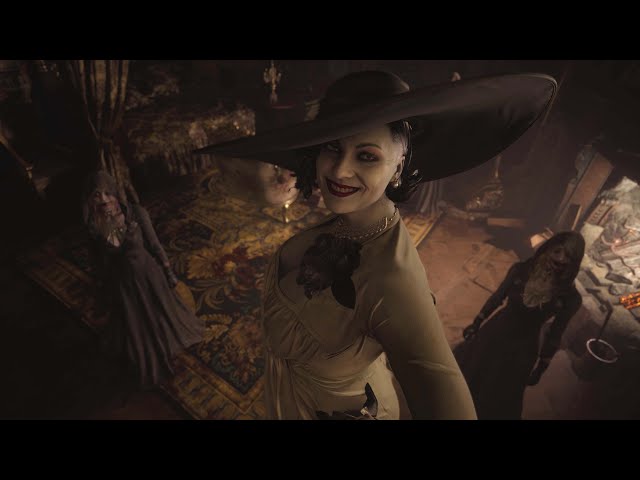 Resident Evil Village setting
As the game's official title suggests, Resident Evil Village is set in a mysterious village. Haney says "Unlike the cramped corridors of the Baker mansion in Resident Evil 7, the fear of dark corners has been replaced with the anxiety of the unknown as Ethan searches for answers within decrepit buildings among snow-covered trees." It certainly has some Van Helsing vibes with the towering castle barely visible through fog, and even reminds us a little of Resident Evil 4.
While you wait: Take a look at our list of the best zombie games
Speaking of Van Helsing, Resident Evil Village has werewolves! It's a slight change from the recent relentless, unkillable antagonists in Resident Evil games. Yes, daddy Baker and Mr. X are terrifying, but werewolves are… fast.
Couple that together with first-person gameplay and scenes that are reminiscent from The Thing or The Shining, we're gonna have a good time. The producers even said in an interview that the village is like its own character.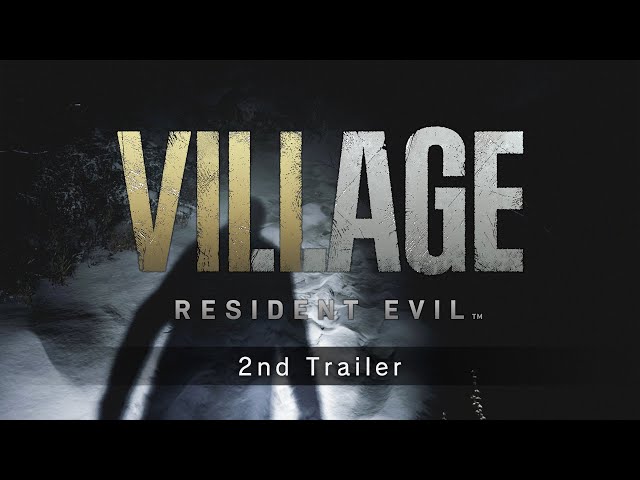 Resident Evil Village story
So, what do we know about the story of Resident Evil Village? We get the distinct impression from the announcement trailer that Resident Evil Village opens with Ethan and Mia living a cosy, settled existence after escaping the Baker plantation. There are dreamlike snippets of a black-haired woman – likely Mia – reading stories to her child. At the end of the trailer, however, we see Chris Redfield show up at what would appear to be Ethan and Mia's house, and gun down a woman in front of a distraught Ethan.
Haney says, "Ethan's world suddenly comes crashing down once again when Chris Redfield, an unexpected yet familiar face makes an appearance, setting off a chain of events that sees a distraught Ethan seeking answers to Chris's shocking actions… and ultimately finding him in a mysterious village."
The announcement trailer for Resident Evil Village opens with a "His story comes to a close", suggesting that either Chris or Ethan will not make it out of the village alive. If Chris did indeed show up out of the blue and kill Mia, then Resident Evil Village could be a revenge story, except you'd expect Redfield to have a very good reason for ruining Ethan's peaceful life.
More recent trailers have given us details of the setting, introducing the world to its gigantic antagonist. This incredible woman is Lady Dimitrescu, a cross between the Japanese Hasshaku-sama ghost story and Morticia Adams, who stands at a gargantuan height of nine foot six inches. She so tall that she bends under doorways to avoid bashing knocking off her wide-brimmed hat.
As Ethan explores her mansion, Dimitrescu and her vampiric brood will stalk him through the tight, elaborately decorated corridors. There's even a bit where flies erupt from Ethan's good hand, which if we're honest, is a bit gross.
Lady Dimitrescu is also seen in the trailer having a chat on the phone with her mother, only ever referred to as 'Mother Miranda'. She talks about how Ethan escaped from the clutches of someone called Heisenburg (possibly the bloke with the massive hammer at the end of the trailer), and also something about a ceremony. She also hints that Ethan's met her brother, but it's unclear if she means Heisenburg or Jack Baker from Resident Evil 7: Biohazard.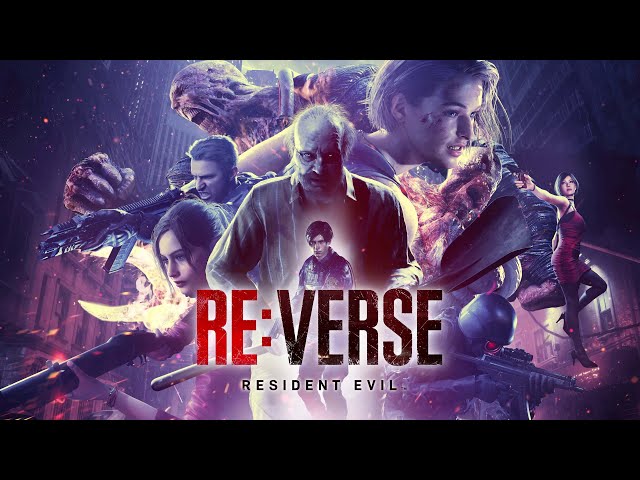 Resident Evil Re:Verse
Much like Resident Evil 3 remake last year, Resident Evil Village is getting a separate multiplayer game. This one is called Resident Evil Re:Verse, and it's a third-person shooter that's more like the previous two remakes, only it also has a more comic book-like cel shaded visual style.
Characters from previous Resident Evil games will be playable and can even turn into monsters like Nemesis, a Tyrant, or Jack Baker. Sadly there is no PC Resident Evil Re:Verse beta, even though PS4 and Xbox One players will be able to get a taste from January 27 to January 30.
That's all we know about a Resident Evil Village for now, but be sure to check back for more details. Resident Evil joins our long list of upcoming games on PC, but in the meantime, here are the best horror games on PC you can play right now.
Can you run it? Check out the Resident Evil Village system requirements on PCGameBenchmark.