Want to know the Manor Lords release date? Want to rule a medieval empire? Dominate the economy? Crush all who dare to oppose you with a magnificent army? The upcoming city-building real-time strategy game, lets you do all that and more.
Manor Lords is a creation from Slavic Magic who, impressively enough, is a solo developer. Inspired by late 14th century Franconia, the strategic RTS game aims to provide a historically accurate experience, with natural city growth and intense battles. If you wish to learn more, here's everything we know about Manor Lords so far.
Manor Lords release date speculation
The current Manor Lords release date window is 2023 and will launch on PC only. There's no news yet on whether Manor Lords could come to PS5, Xbox Series X, or Nintendo Switch.
Manor Lords trailers
The first Manor Lords trailer reveals a gorgeous mountain view behind lush green hills and forests. In the midst of this picturesque landscape, you can spot farmers working the land, hunters scouring the forests, and workers raising new buildings. It's a quaint scene, until enemy forces arrive.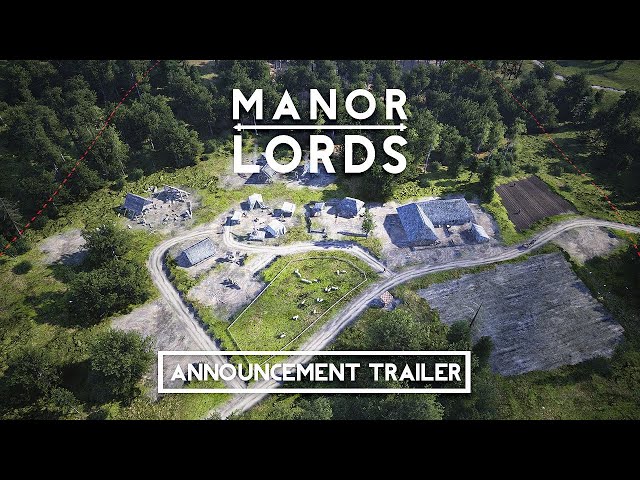 In the second half of the trailer, it becomes clear that Manor Lords is also very much a military strategy game. From up close, the video shows the varying degrees of equipment, ranging from chainmail to plate armour. From a top-down perspective, we get a demonstration of troop formations, which will undoubtedly play a huge role in dominating the game.
Manor Lords gameplay
City-building
Manor Lords uses a gridless building system, with a great deal of freedom to place the buildings as you like. The aim is to mimic the natural growth of a medieval town, taking the influence of trade routes and the environment into account.
New towns don't just pop up; they evolve around a central marketplace. Every fledgling settlement needs proper infrastructure to grow and connect its commercial districts, industrial districts, and residential districts. You have the power to shape these districts by placing and upgrading specific buildings. Here's a selection of the building types we've spotted so far:
Peasant house
Carpenter camp
Logging camp
Forager hut
Weaver workshop
Tax collector
Church
Naturally, Manor Lords buildings can do much more than just provide goods. A church, for example, is a costly institution, but it can return the investment by granting you influence.
To build all these farms and workplaces, you need resources. As they're scattered across the map, it's important to adjust the type of new settlements accordingly, choosing between farmer villages, mining outposts, and many others. Surviving is good and building a large economy is even better, but beware; if you expand too fast, you may run out of base materials. Don't want to face a winter without wood, do we?
RTS combat system
Manor Lords features massive, realistic medieval battles. Positioning plays an important role, but so do individual unit formations, equipment, morale, fatigue, and the weather conditions. You'll be able to choose between stances and commands, such as 'push' or 'give ground' orders for melee troops, and 'volley' or 'quickdraw' orders for archers. If things go horribly wrong, there's always the 'retreat!' option.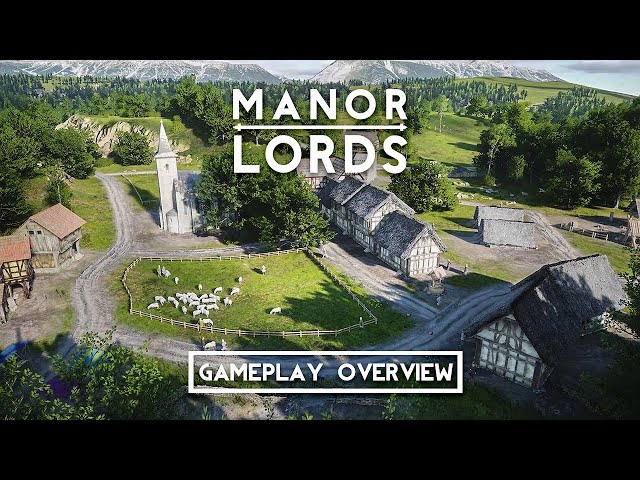 As shown in a Manor Lords gameplay overview video, troops are divided over three categories, the peasant militia, mercenaries, and the lord's retinue. The peasants require good training to become more effective, the mercenaries are well-trained but expensive, and the lord's retinue is a small, heavily armoured (and customizable!) group of elite fighters. While the latter two are still a "work in progress", we can expect the following unit types in the final version of the game:
Swordsmen
Spearmen
Archers
Cavalry
Siege engines
As another video on Manor Lords' combat system shows, you'll be able to upgrade or downgrade your troops' equipment using a stat slider. If you increase 'head protection', for example, the headwear will visibly improve.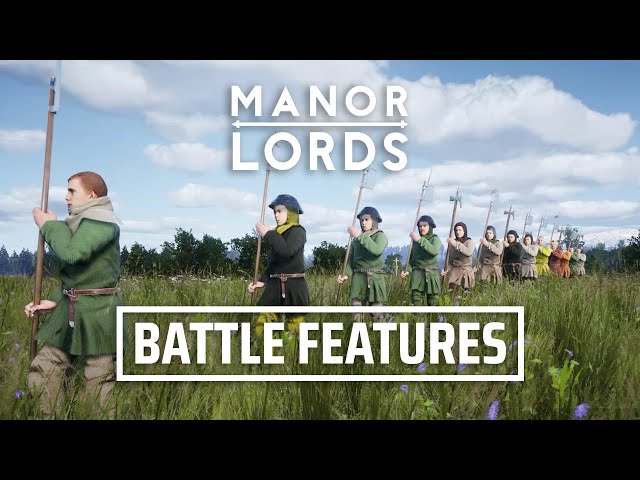 As a city-builder, Manor Lords' battle system impacts other aspects of gameplay as well. For example, a hard-won battle can result in a very tough winter. Luckily for the silver-tongued diplomats out there, the Manor Lords diplomacy system allows you to negotiate, possibly avoiding battling altogether… Or, if peace was never an option, you can be really rude to your neighbours and watch the drama unfold.
Manor Lords news
Although Manor Lords was expected to release in early access in 2020, this hasn't happened yet. However, Steam Next Fest 2022 did include a time-limited Manor Lords demo. While the demo isn't available anymore, there are plenty of gameplay videos to be found on YouTube.
If you can't wait to hear what sort of soundtrack arrives with the Manor Lords release date, a preview (or rather pre-listen) is already available on YouTube. The song, called 'The Peasants', was financed by Patreon supporters.