Want to know everything that's coming in the Genshin Impact 1.5 update? It wasn't all that long that we were speculating about the current update to the hit free-to-play RPG, and now we've got even more stuff coming our way. There is a slight snag though: this may be the last time players will know well in advance what's coming to the game.
Not long after the 1.4 update dropped, details were leaked from various sources about what's coming in the next update. So many in fact that it prompted Mihoyo to speak out publicly about the consequences of leaked information.
Following Mihoyo's official Version 1.5 special program, we have confirmation that at least two new Genshin Impact characters are coming to the game, as well as a rerun of a previously released character, several events, and a new gameplay feature, among many other offerings.
Genshin Impact 1.5 update release date
The Genshin Impact 1.5 release date is April 28, 2021. This was confirmed in the version 1.5 special program.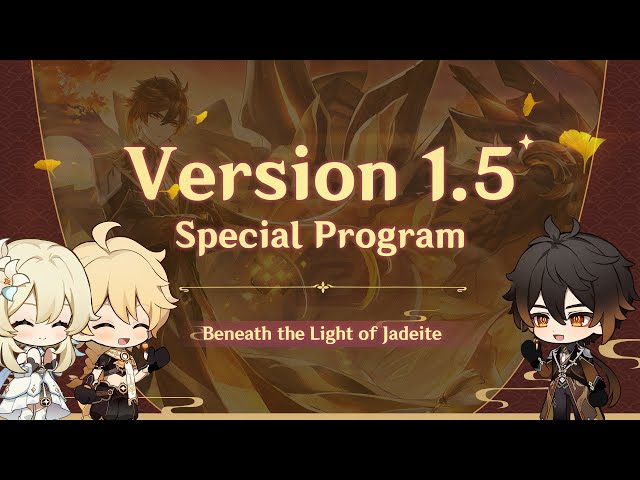 Genshin Impact 1.5 new characters and reruns
Following on from the introduction of Rosaria in the 1.4 update, the two new Genshin Impact characters in the 1.5 update are Eula and Yanfei. Eula is a five-star Cryo character with a Claymore. In combat, she will rely on acquiring stacks of Grimheart that's converted by her skills into effects to deal more damage over time.
Yanfei, on the other hand, is a four-star Pyro character that specialises in magical effects with her Catalyst. She will be part of the first Event Wish banner in 1.5, Gentry of Hermitage, alongside a Zhongli rerun.
genshin impact housing system
The 1.5 update introduces a player housing system called the Serenitea Pot. Players will be able to furnish their own living quarters with stuff that they can buy from a shop with special currency. You'll also get a bird companion who can teleport you to your house.
Related: Redeem free primogems with these Genshin impact codes
In future updates, you will be able to grow plants in Serenitea Pot, and sell your crops for various rewards. In version 1.6, you'll be able to invite your characters to hang out in your homes.
Other Genshin Impact 1.5 new features
As for the rest of the update, these are what's been leaked thus far:
New Battlefront: Misty Dungeon
Windtrace hide and seek event
Mimi Tomo event
New artifact domain
Two new artifacts: Tenacity of the Millelith and Pale Flame
New weapon: Song of Broken Pines
New story quests: Zhongli and Eula
New monsters: Azhdaha, Daleth, Abyss Lector
New hangout events
A Reddit post by Hikuran has surfaced with screen capture of the development diary. It's all in Chinese, but thankfully Hikuran translated and summarised what each of the screenshots say:
The weekly boss fights will soon have a reduced resin cost.
Those playing on mobile devices will be able to adjust bow sensitivity, and screen size in options menu.
You'll now be able to browse how many ingredients you have for recipes when using the crafting, forging, or cooking stations.
A new option to lock mail received from characters will be added. This ensures they won't be deleted when you select the 'delete all read mails' option.
A sound gallery will be added to allow players to browse and listen to the battle voices for all characters that they own.
There is now a two-step notification when deleting friends to prevent accidental deletion of friends.
Additional account security is in development, with two-factor authentication implied. The earliest this will happen is May or June on one server as a test case, then rolled out afterwards to all remaining servers.
A bug fix for the Statue of the Seven, which addresses health regeneration being emptied too soon, that can be resolved by relogging into the game.
That's all we know so far about the Genshin Impact 1.5 update. Of course, let's not get distracted by what's coming in the future, as the 1.4 update has tons of stuff in it that you should complete first. There are four characters with hangout events so far: Noelle, Barbara, Bennett, and Chongyun. And that's not counting the rest of the Windblume Festival's activities.