Want to know about the Genshin Impact 2.7 release date? After being delayed a few weeks, we now know when the next patch is arriving, and we've got enough information to give you an overview of what's coming up next. The devs at Hoyoverse have recently announced some new Genshin Impact characters, two of which will be joining the open-world game at the end of May.
Datamined beta information for Genshin Impact 2.7 update has been online for a while now, giving us a glimpse at the abilities for Yelan and Kuki Shinobu. We also know what Yelan's ascension materials are likely to be – check out our guide to gather everything you need ahead of time to level up her talents immediately.
Most of the leaks for Genshin Impact 2.7 focus on the new characters, but now that the officia livestream has aired we know more about the new events and quality-of-life improvements coming as well. We've put together a guide on everything we know about the Genshin Impact 2.7 update.
Genshin Impact 2.7 release date
The Genshin Impact 2.7 release date is May 31. The Genshin Impact 2.7 maintenance is due at 6am UTC +8, which in other timezones means it will start on May 30 at 3pm PST / 6pm EST / 11pm BST.
From May 27, you can pre-load parts of the 2.7 update on your PC so that you can download the full update faster when it becomes available. Full instructions on how to do this are available on the Hoyoverse website.
V2.7 Update Notice

Dear Travelers,
V2.7 update maintenance is expected to start at 05/31 6AM (UTC+8) and is expected to be done within 5 hours. The duration of V2.7 is expected to be 6 weeks, and V2.8 is expected to be updated on 07/13.https://t.co/YXVSW8SNKl#GenshinImpact pic.twitter.com/2hmVhPddG5

— Genshin Impact (@GenshinImpact) May 19, 2022
The maintenance period is due to last around five hours, and Hoyoverse has even gone as far as to state that the 2.7 patch is due to run for the usual six weeks, with the Genshin Impact 2.8 release date now expected on July 13.
Don't forget, until May 30 you can claim your free primogems as part of the 2.7 update delay compensation scheme announced by Hoyoverse in early may following the news.
Genshin Impact 2.7 banners and characters
The Genshin Impact 2.7 livestream confirmed the banners for the next patch, the first of which will drop at the same time as the 2.7 release date.
The 2.7 phase one banners are:
Yelan – Discerner of Enigmas
Xiao – Invitation to Mundane Life (this is a rerun banner)
The phase two banner is an Arataki Itto rerun banner called Oni's Royale. This will also feature new character Kuki Shinobu as one of the four-star character options. There will also be a new weapon banner, where at least one of the headline items will be a new five-star bow called Aqua Simulacra.
Genshin Impact 2.7 livestream
The Genshin Impact 2.7 livestream aired on May 20, at 8am (UTC – 4) via the official Genshin Impact Twitch channel.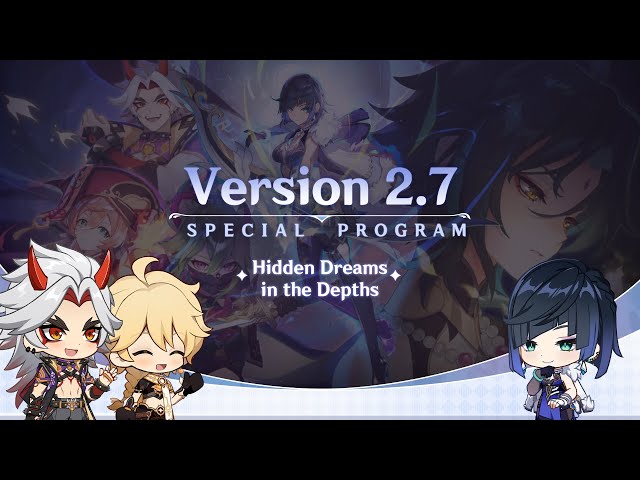 Genshin Impact 2.7 free primogems
On May 5, Hoyoverse announced that it would be compensating players due to the delay of the 2.7 update. Starting on May 11, 400 free primogems will be sent to players at 04:00 AM server time every Wednesday. Players will also be sent one Fragile Resin, seven Hero's Wit, 16 Mystic Enhancement Ore, and 120,000 Mora.
This compensation will continue until the 2.7 update is released. You have to hit Adventure Rank 5 by the time the first wave of compensation goes out in order to be elligable, and the free goodies will be sent via the in-game mail system. Each mail will expire after 30 days, and rewards can only be claimed before the 2.7 update lands.
Genshin Impact 2.7 events
Here is a summary of all of the announced events in Genshin Impact 2.7:
Perilous Trail: a domain-based Archon quest
The Almighty Arataki Great and Glorious Drumalong Festival: rhythm game event where travellers play a drum to the beat and share beat maps with other travellers
Core of the Apparatus: Serenitea Pot event where travellers build robot furnishings
A Muddy Bizarre Adventure: dungeon event in the chasm where players fight in dark mud against buffed enemies
The Gang's Daily Deeds: Kuki's Hangout event
Razer Iskur X – Genshin Impact Edition Razer Iskur X – Genshin Impact Edition Razer $499.00 Buy Now Network N earns affiliate commission from qualifying sales.
That's everything we know about Genshin Impact 2.7 so far. For more Genshin Impact tips, check out our guides to 2.6's new area, The Chasm, including all of the Archaic stone locations and how to unlock the Chasm underground. The 2.7 livestream also gave us more Genshin Impact codes, so make sure you go grab them.