When was the Alan Wake 2 release date? The long-awaited sequel to Remedy's supernatural thriller finally arrived a long 13 years after the first game. The possibility of a sequel was first teased in Control's second DLC expansion, which featured Alan Wake as one of the main characters.
Remedy confirmed Alan Wake 2 and Control share the same universe, so you might want to familiarize yourself with both action-adventure games if you haven't already. With the Alan Wake 2 release date having now passed here, these are the details on the run-up to one of the best PC games of 2023, where Alan has been all these years, and how the new protagonist Saga Anderson fits into the story.
Alan Wake 2 release date
The Alan Wake 2 release date was Friday, October 27, 2023. This was ten days later than its original scheduled release date which, according to an official announcement from Remedy, was to give "more space for everyone to enjoy their favorite games" in a month of big releases.
Assassin's Creed Mirage, Cities Skylines 2, and Forza Motorsport were among the other games released in October 2023, one of the busiest months in gaming in recent times. None of this did anything to dull the shine of the Alan Wake 2 release date though, which was met with critical acclaim, earned a Game of the Year nomination and, most importantly, received a pretty decent score in our own Alan Wake 2 review.
Alan Wake 2 was released on PC, PlayStation 5, and Xbox Series X|S, and was available exclusively on PC via the Epic Games Store as part of a publishing deal with Remedy Entertainment. Given Alan Wake 2's exclusivity, we don't expect Alan Wake 2 on Game Pass any time soon, and an Alan Wake 2 Steam version does seem unlikely.
Alan Wake 2 gameplay
Alan Wake 2's gameplay is quite different than its predecessor, with a renewed focus on exploration that demands a slow pace and bolsters the psychological horror promised by Remedy. The game remains a third-person shooter experience at its core though, with a particular focus on puzzle-solving and manipulating light to beat back foes. PCGamesN caught up with Sam Lake to hear more about Alan Wake 2 combat, which eclipses that of its predecessor.
Of course, combat and tone aren't the only elements set to depart from the original game. Protagonist Alan Wake is joined by FBI agent Saga Anderson, as they both work in tandem to uncover their respective mysteries. While Anderson is on the hunt to solve a string of strange murders and disappearances in Bright Falls, Alan is trapped in the nightmare world known as the Dark Place and desperate to escape. Their stories are split into two distinct campaigns which you switch between sporadically, and which eventually converge in later chapters.
Both characters also have access to a liminal investigative space to take stock of clues they've uncovered to bring them both incrementally closer to the truth. Anderson's Mind Place is more akin to a traditional crime board, awash with photographs, sticky notes, and thread. Conversely, Alan's Writer's Room contains a plot board that follows the format of a narrative brainstorm. Both can be accessed at any time during exploration, allowing us to progress the plot.
Alan Wake 2 story
It's been 13 years since bestselling crime novelist Alan Wake took the plunge into Cauldron Lake to enter the Dark Place and save his missing wife. After defeating the Dark Presence lurking within, Alan uses his power to change the plot as it unfolds around him to switch positions with Alice. As Alice emerges from Cauldron Lake, Alan is left stranded in the Dark Place for 13 years until the events of Alan Wake 2 begin.
Alan Wake 2 is a direct sequel to its predecessor and follows Alan's attempt to escape the Dark Place by creating new stories while trapped within it. Meanwhile, FBI agent Saga Anderson enters Bright Falls to investigate a string of murders. Like Alan, she encounters a manuscript for a horror story that quickly begins to unfold around her.
Alongside Saga and Alan, the Alan Wake 2 cast list also includes several returning characters from the Remedy Connected Universe, including Ahti, Control's eccentric janitor. Creative director Sam Lake is also instantly recognizable as the face of FBI agent Alex Casey.
Alan Wake 2 trailers
Following Alan Wake 2's initial announcement trailer back in 2021, Remedy released several behind-the-scenes videos that delve into the various characters and features of the survival horror game. The first introduces Saga Anderson, positioning her as a counterpart to Alan as her story runs adjacently to his own. Melanie Liburd is both the face and voice of Saga, who you may recognize as Zoe Baker in This Is Us or as a Red Priestess in Game of Thrones.
In the same video, we explore Bright Falls, the fictional Pacific Northwest town where Alan Wake 2 is set, while revisiting areas from the first game such as Cauldron Lake. It's also revealed that Alan Wake has been missing for 13 years, suddenly returning during the events of the sequel. Remedy then released a gameplay reveal trailer featuring Alan and Saga as they both fight to survive the nightmare that has consumed Bright Falls, culminating in their eventual meeting.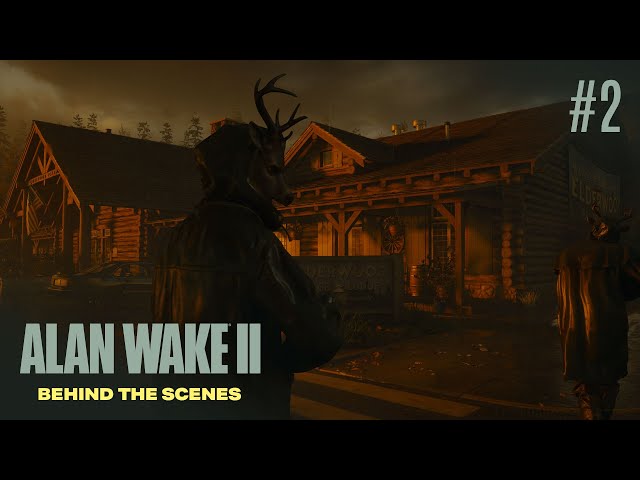 The second behind-the-scenes trailer shows more about the game design methodology, the frustrations the development team experienced throughout the years, and how proud everyone is that this current polished iteration is the most exciting version they've seen. A further trailer affords us a glimpse of Saga Anderson's Mind Place.
The next behind-the-scenes trailer reveals the Dark Place, the strange alternate world that Alan has been trapped in for 13 years. It also delves into how his character has changed since the previous game. We experienced a more immediate sense of how disorienting and disconcerting the Dark Place is in the Gamescom ONL trailer, which includes live-action sequences to add to Alan Wake 2's surreality.
A following behind-the-scene trailer delves into how Alan and Saga fight back against the encroaching darkness in Alan Wake 2. It includes an extensive look at the detective properties of Saga's Mind Place, as well as Alan's Writer's Room and its capacity to reshape the Dark Place to suit his needs.
More Alan Wake 2 guides to help you uncover the secrets of Bright Falls:
It was a long journey, but we finally found our way to the Alan Wake 2 release date, and the strong narrative carries the adventure to the end. If you're looking for more like Alan Wake 2, we have a list of the best story games. If you're more interested in the chase, we also have a list of the best upcoming games if you're looking for something to replace Alan Wake 2 in your wishlist.