We finally have a Just Cause 4 release date, and it's about time, too. We're sorely missing tearing dictatorships apart with an unbreakable grapple hook and only a new Just Cause game can scratch that itch. Ever since it emerged that Just Cause dev Avalanche Studios had been busy working on a big new title, the wait for a fourth entry to the high-octane series has been agonising.
The Swedish developer might already be very busy with Rage 2 and Generation Zero, but the small matter of making another triple-A title appears to not be beyond the company. We're not complaining, of course: now we've seen Just Cause 4 in action and know lots about the upcoming action-adventure already, we're itching to get behind the wheel of many weird and wonderful machines and strap on Rico's wingsuit once again.
Join us as we break down all the crucial and up-to-date information about Just Cause 4, from the beautiful biomes of its South American setting, the latest trailers, and the satisfying Swiss Army Knife that is Rico's grappling hook. Here's everything you need to know about Just Cause 4.
Just Cause 4 release date
The Just Cause 4 release date is December 4, 2018. The release date was announced at Microsoft's E3 conference in 2018.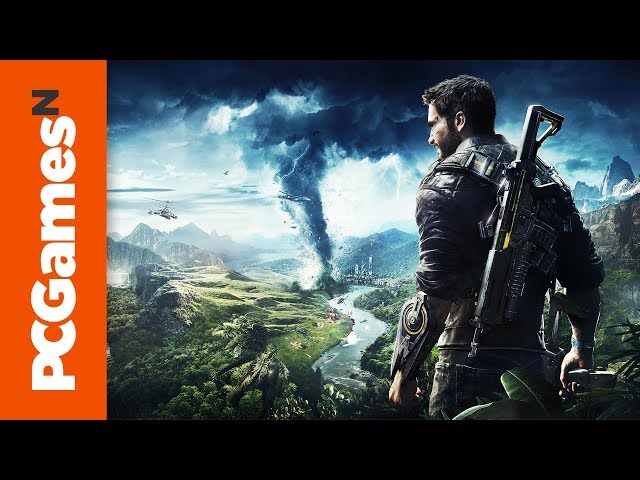 Just Cause 4 gameplay
The wingsuit, parachute, and grappling hook all return in Just Cause 4. In fact, the Just Cause 4 grappling hook is shaping up to be the series' best yet. It now has new functionality and has "more than 4 million" customisations. You can choose different attachments, such as deploying boosters on objects with each throw of the line, and set three custom loadouts for Rico to hot-switch between while he fights.
As we gathered from leaked screenshots, Just Cause 4 weapons will have alternate fire modes such as mid-flight RPG control and explosive bullets. There's even a gun that lets you fire a personal drone to assist you.
Just Cause 4's gameplay certainly seems like the series is back to its emergent best. For instance, you can use Just Cause 4 airlifters to strap balloons to vehicles and ride them through the sky. Likewise, you can airlift red barrels towards an enemy base and detonate them. You can even set the airlifters to follow you, and guide whatever you choose to levitate to wherever you like – how about bringing dozens of red barrels in the centre of an enemy camp and then detonating them?
Just Cause 4's war is depicted in-game with a frontline that Rico can push forward by raising his chaos rating. The more chaos you create, the more you'll push the enemy back as you gather allies.
This is part of a key change to the game's setup, too – you no longer need to destroy every red-painted construction in a settlement in order to liberate it. Instead, you will have separate liberation objectives that aren't necessarily tied to destruction, allowing for even more free-form gameplay. And, if it was ever in doubt, Just Cause 4 will feature heaps of vehicles, such as fighter jets, sports cars, dirt bikes, and military helicopters.
What we didn't necessarily expect was Just Cause 4 microtransactions. The game's rating for North American audiences says the game contains "in-game purchases", a first for the series. It's possible that these Ubisoft-style time savers or upgrades to the game's weapons, but we don't know for sure, yet.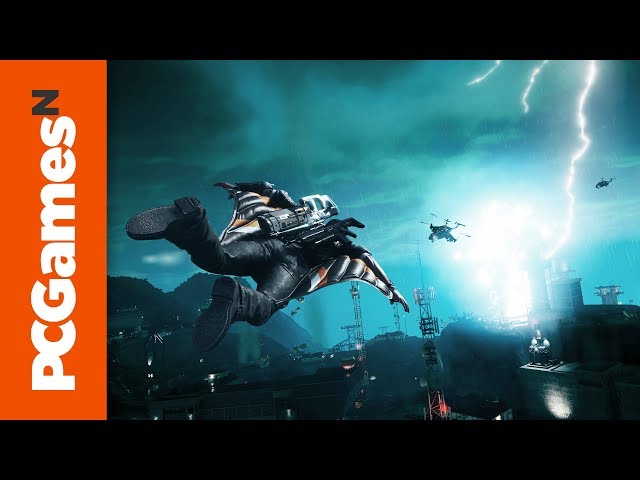 Just Cause 4 setting
Just Cause 4's setting is the fictional South American world of Solis. Solis will be made up of four biomes – Rainforest, Grassland, Alpine, and Desert in what will be the biggest Just Cause map the series has ever had.
Each biome will feature its own extreme weather, including tornadoes – which affect every item differently – and lightning storms, that you can use to your advantage. For instance the "simulated wind patterns" of Just Cause 4's weather system can help you steer your wingsuit. However, these weather systems will not clash across biomes, they are restricted to each area.
Just Cause 4 story
Just Cause 4 story details are a little thin on the ground right now, but the new trailer hints at a few key points. For one thing, we know that Rico will be going up against a gang called The Black Hand, "the world's most powerful private army." Rico will be working to take them down by increasing his chaos rating and, through that, bolstering and empowering The Army of Chaos – his allies.
A war between the two sides plays out in Just Cause 4, the front line snaking its way through the world. Rico is able to advance this line by increasing his chaos rating and recruiting locals to the cause.
Just Cause 4 multiplayer
Multiplayer was one of the most wanted features for Just Cause 3, so much so that a dedicated team of fans created a Just Cause 3 multiplayer mod to fill the void.
It initially seemed that Avalanche were aware of the hunger for Just Cause 4 multiplayer as Christofer Sundberg revealed on Twitter that the devs are taking their sandbox games online and are hiring for a multiplayer team. However, Just Cause 4 multiplayer is not on the cards. Creative director Franceso Antolini sadly confirmed to us directly that "Just Cause 4 will not feature multiplayer."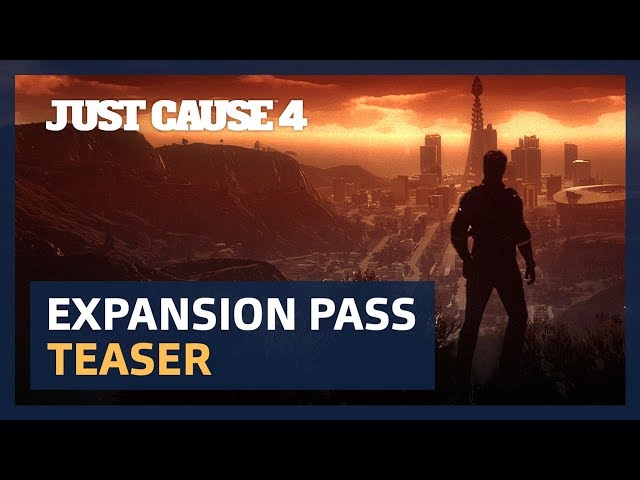 just cause 4 trailer
The most recent footage of the game comes courtesy of the Just Cause 4 DLC trailer above. The 30-second video doesn't give too much away about the main game, but the ending does reveal three post-launch release packs: Dare Devils, Los Demionos, and Agency Strikes Back.
The Just Cause 4 trailer shown at Microsoft's E3 conference, confirmed the game's existence after a series of leaks. The trailer confirms the return of Rico Rodriguez (as well as all of the destruction you've come to associate with the series so far). There's also a look at the new Just Cause 4 map, the South America country of Solis, and the extreme weather conditions that rock the nation's four biomes.
Both Rage 2 and Just Cause 4 are powered using the Apex engine, which allows the new Just Cause game to show off HDR lighting and interactive weather systems. Get a taste of it with the Apex engine trailer above.
Just cause 4 system requirements
Can you run it? Check your PC against the Just Cause 4 system requirements on PCGameBenchmark.
minimum:
OS: Windows 7 SP1 with Platform Update for Windows 7 (64-bit versions only)
CPU: Intel Core i5-2400 @ 3.1 GHz | AMD FX-6300 @ 3.5 GHz or better
RAM: 8 GB
GPU: NVIDIA GeForce GTX 760 (2GB VRAM or better) | AMD R9 270 (2GB VRAM or better)
HDD: 59 GB
recommended:
OS: Windows 10 (64-bit versions only)
CPU: Intel Core i7-4770 @ 3.4 GHz | AMD Ryzen 5 1600 @ 3.2 GHz or equivalent
RAM: 16 GB
GPU: NVIDIA GeForce GTX 1070 (6GB VRAM or better) | AMD Vega 56 (6GB VRAM or better)
HDD: 59GB
recommended (4K)
OS: Windows 10 (64-bit Fall Creators update)
CPU: Intel Core i7-7700 (3.6 GHz or higher) | AMD Ryzen 5 1600X (3.6 GHz or higher)
RAM: 16 GB
GPU: NVIDIA GeForce GTX 1080 Ti
HDD: TBC