Want to know the Genshin Impact 3.7 release date? Even though the 3.6 update has only just graced our screens, it's time to gather more information about the banners and events ahead.
The Genshin Impact 3.6 update has started off strong with banner reruns of Nahida and Nilou, two excellent characters that have earned high spots on our Genshin Impact tier list. The second half of the update includes two new characters, Baizhu and Kaveh, though we don't know how good they are just yet. In comparison, Genshin Impact 3.7 release date looks to have fewer new features than 3.6 so far. One reason for this may be because of the rumours of a new region and map coming to the free PC game, as well as the introduction of the Hydro Archon lurking around the web, so we may not need to wait all that much longer for the Genshin Impact 4.0 release date.
Genshin Impact 3.7 release date
Should the next major update follow the game's usual six-week cycle, it looks like the Genshin Impact 3.7 release date is May 24.
Genshin Impact 3.7 livestream
The Genshin Impact 3.7 livestream took place on May 13. Our Genshin Impact codes guide has a list of the codes shown to redeem for valuable Primogems and other goodies. You can catch up with the full broadcast below: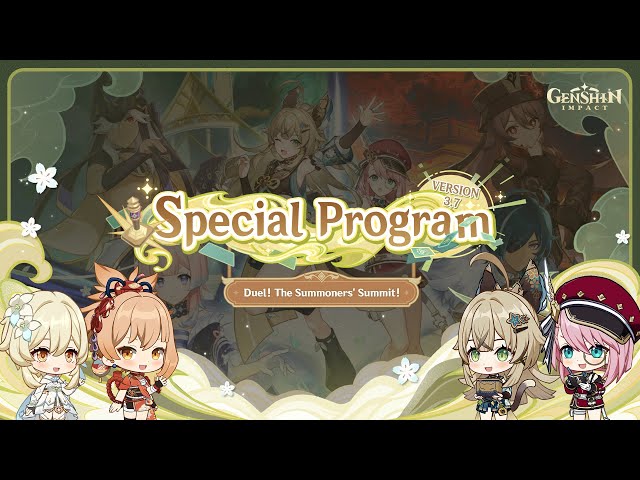 Genshin Impact 3.7 character banners
So far, we know of one of the two new characters coming in the next banner. Kirara is a new four-star Dendro Nekomata bow user from the Inazuma region. As a courier for Komaniya Express, she loves her job and the human society around her. Among her abilities, she can turn into a delivery box to sprint away from danger and climb cliffs.
Kirara also has her culinary speciality – the Energizing Bento. This three-star recipe restores 34% of the eater's max health and regenerates 980 health every five seconds for a 30-second duration.
Genshin Impact 3.7 rerun banners
According to the Genshin Impact 3.7 livestream, the first two banners in the update feature Yae Miko and Yoimiya, with both banners including newcomer Kirara. Prominent Genshin Impact leaker Uncle YC suggests we can also expect to see the following four-star characters:
The second half of the update is confirmed to include Alhaitham and Kazuha on separate banners. The rumoured four-star characters are as followed:
New weapon
In addition to the new character, there is a four-star weapon called the Ibis Piercer. It's a bow that, according to the leaks, has a base attack of 565 and an attack percentage of 27.6% when leveled up to 90. It comes with the unique ability Secret Wisdom's Favor, which increases the wielder's elemental mastery by 40 within six seconds after charged attacks hit opponents. This effect can stack twice but only triggers once every half-second.
New features
As for other potential new features, mero on Twitter has posted information about the Genshin Impact 3.7 update:
There will be a new Battle Pass namecard.
Gadgets will now have quick-swap functionality.
A new TCG-related event will bring the release of Archon TCG cards.
A new Fountaine region character will be playable in the future.
Finally, Yoimiya will have a continuation of her Legends quest, which may take place in Sumeru.
And that, so far, is everything we know about the upcoming Genshin Impact 3.7 release date. For more on the latest update, check out the Genshin Impact new characters and details about the current and next Genshin Impact banners for the latest events.